Article originally appeared on msisurfaces.com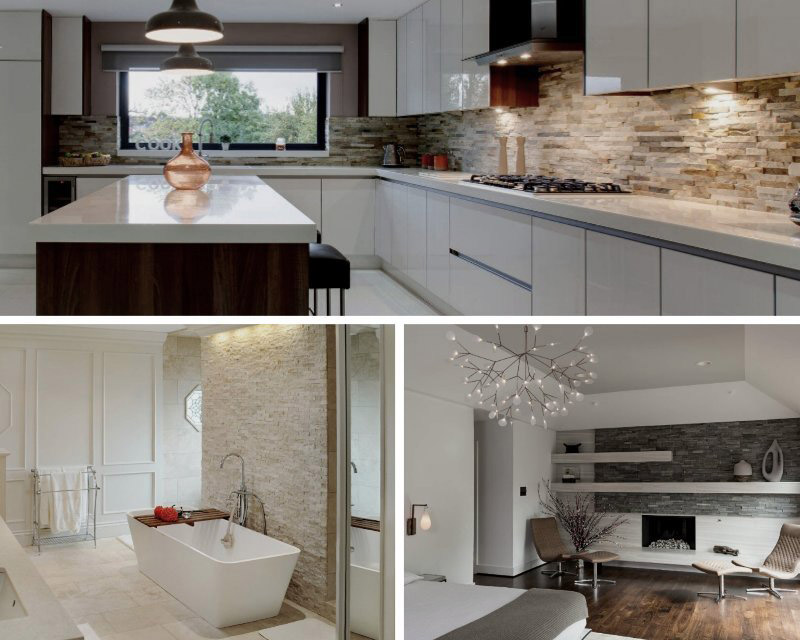 Inspired interior design is all about mixing colors, textures, and patterns to create an atmosphere that turns a house into a home. In large spaces such as kitchens, great rooms, or entry halls, accent walls are often adorned with paint or wallpaper to create a distinctive look. Unfortunately, paint and wallpaper don't last forever. In high traffic or damp areas, the accent wall may need repainting or fresh wallpaper every few years. Fortunately, there is a timeless and durable solution--stacked stone walls.
If you love natural stone, you are going to love stacked stone panels. Stone panels are available in a variety of materials, including granite, quartzite, marble, sandstone, slate, and more. Panels are manufactured with a mesh backing that allows for grout-free installations, and pre-made corner pieces are available to complete the installation. Natural stone walls are a glamorous, high-end, and timeless installation for your design.
Are you ready for a healthy dose of inspiration? Let's dive into some of our favorite stacked stone looks in these masterfully designed spaces.
SPA-INSPIRED BATHROOMS:
NATURAL HUES FOR CONTEMPORARY ELEGANCE
Dreamy spa-like bathrooms are a fantastic place to highlight the beauty of stone wall tile. If you think of split-faced natural stone only as a solution for traditional or transitional designs, think again. Natural stone adds character and texture making a contemporary or modern space feel warmer and more inviting. When set against smooth tiles, sleek lines, and a neutral palette, a stone wall is just the accent a room craves.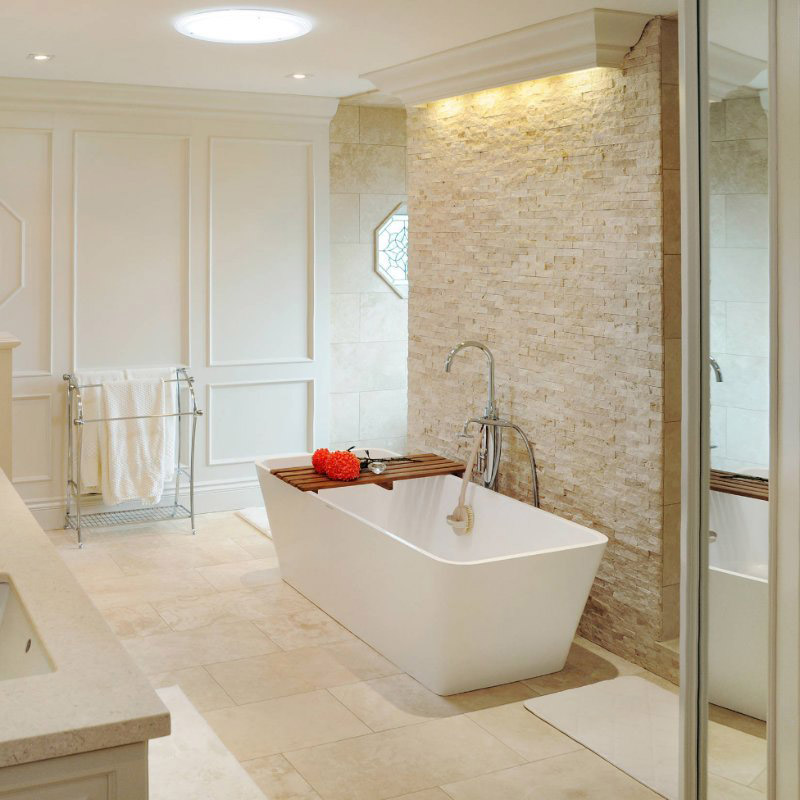 Sparkling Autumn (Photo Credit: Houzz)
Quartzite (not to be confused with quartz) is a durable, beautiful, and elegant natural stone often with veins that sparkle and shimmer. Our Sparkling Autumn panels have a refined vibe that oozes elegance in this sophisticated take on contemporary design. The coarseness of the wall behind the clean lines of the bathtub are a marriage made in heaven. As your style morphs, the white and gold palette will compliment dark tones as well as light tones making Sparkling Autumn a timeless choice.
ROMANTIC MASTER BEDROOMS:
A POP OF COLOR TO SET THE STAGE
Speaking of timeless design, what's more classic than a black, white, and gray color scheme? Are you thinking, "gray isn't a pop of color!" Actually it is. The hallmark of everlasting design is knowing when to go bold and when to go subtle. Stacked stone in dark black, charcoal or gray offers a stylish backdrop that compliments any décor. In this color family, panels are available in natural marble, slate, quartzite, and granite. Each of these stones has personality and can complement design styles from traditional to modern.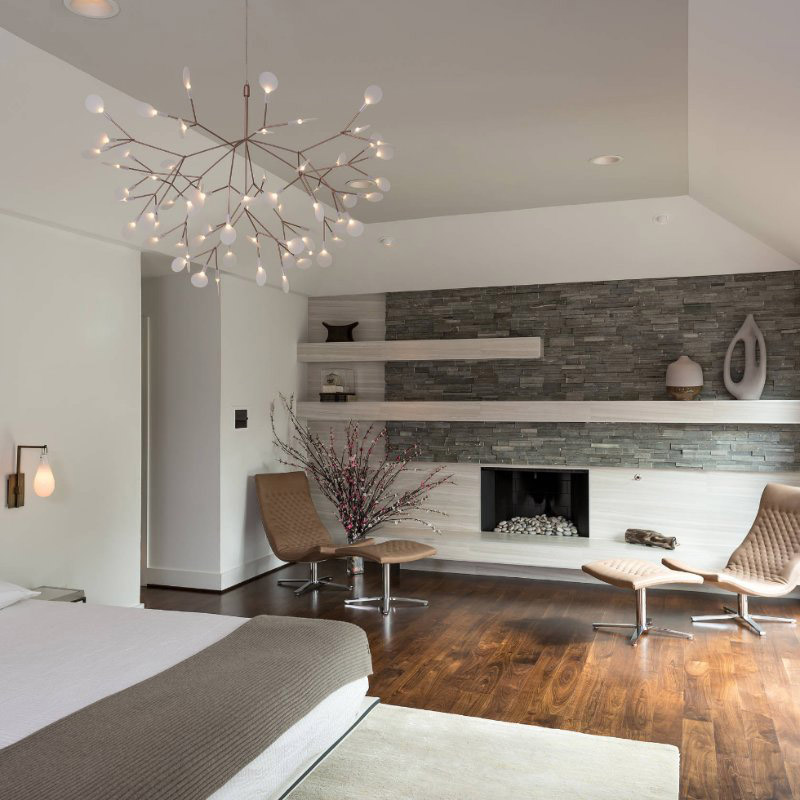 Glacial Black (Photo Credit: Houzz)
Our Glacial Black stacked stone is crafted from natural marble. It is elegant, timeless, and just the design element this master retreat needs. The on-trend gray and black tones partnered with the warmth of warm beige accessories and natural hardwood floors transforms this master bedroom into design nirvana.
CASUALLY ELEGANT GREAT ROOMS:
THE HARMONY IN PAIRING NATURAL MATERIALS
One of the secrets to great design is the artful mixing of natural materials. You can choose to put hardwood on the floors and walls, or stone on the floors and walls—or you can mix it up. For example, a rustic hardwood floor is a beautiful counterpoint to the sharp lines of transitional design. A great way to incorporate natural stone into a great room is by installing a floor-to-ceiling stacked stone fireplace.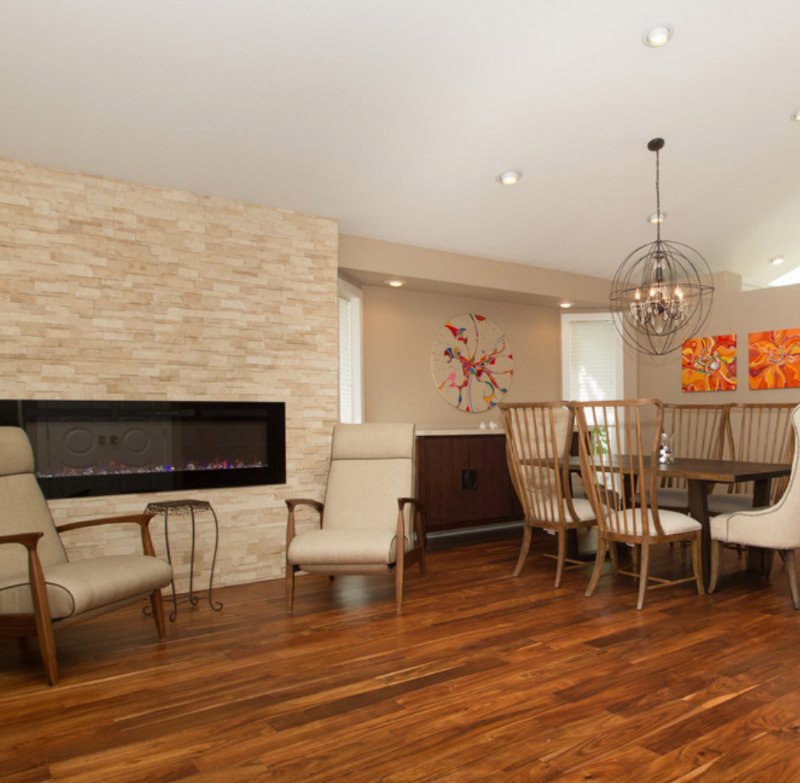 Sedona Beige (Photo Credit: Houzz)
Let's be honest, on a cool evening, few things are better than the flickering fire. To compliment the hardwood floor in this great room, our Sedona Beige sandstone panels were installed and partnered with on-tone wall paint creating a cohesive and relaxing design. What makes this space so inviting is the character of the sandstone. It has a unique look and feel, reminiscent of Old World dry-stacked stone walls
CHEF-INSPIRED KITCHENS:
EASY TO CLEAN & READY TO WORK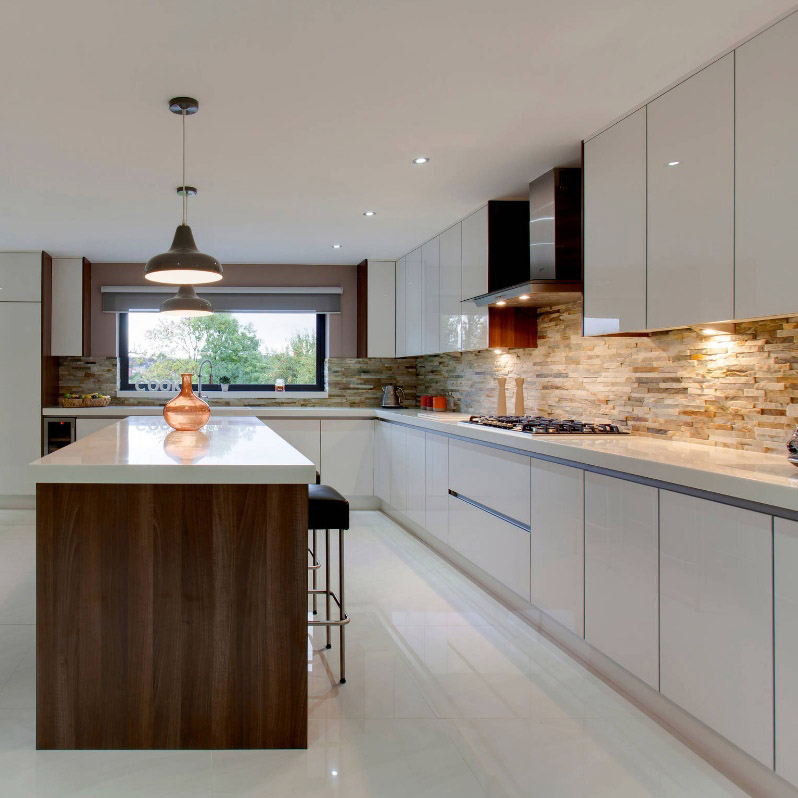 Fossil Rustic (Photo Credit: Houzz)
Natural stone softens the look of modern design, making the look more inviting and welcoming. A stone backsplash can be bold and dramatic, subtle and subdued, or be comfortable in the middle of the design. The latter is where our Fossil Rustic shines.
Sometimes contemporary and modern designs go just a touch too far into minimalism. This can leave a space feeling cold and devoid of personality. The key is to incorporate a focal point or show-stopping architectural element. You can add a dose of graceful hues and texture by using stone panels as a backsplash instead of subway tile. Truly inspired design marries materials seemingly at odds with one another--like flat-front glossy cabinets and split face stone.
Have we set your mind spinning and heart aflutter with all the opportunities to use natural stacked stone inside your home? Here are some tips for creating a focal point with natural stone:
For a glam vibe, choose a stone with inherent sparkles and install it on a wall that receives direct sunlight to boost the shimmer and shine.
For a romantic vibe, choose a darker colored stone and install it on a smaller wall to create a romantic nook.
To capture the essence of the Old World, choose an expansive wall in the center of your home to add a rustic stacked stone ripe with bursts of deep auburn, rusts, and golds.
To complement a modern design, choose a honed or pencil panel to create a unique streamlined focal point.
Most importantly, choose the color and texture that inspires you.
In addition to kitchens, bathrooms, and great rooms, entryways are a great spot to add a stacked stone wall. Let's not forget the impact of a first impression! Not only will a stone accent wall right at your home's entry set the tone for the design throughout your home, but it is also a durable material that can withstand the everyday comings and goings of your family. Unlike wallpaper, natural stone doesn't tear and unlike painted walls, stone doesn't show fingerprints.
Explore our inventory of stacked stone panels and use our visualizer tool to try them on your wall to see which one takes an ordinary wall and turns it into an extraordinary accent wall.