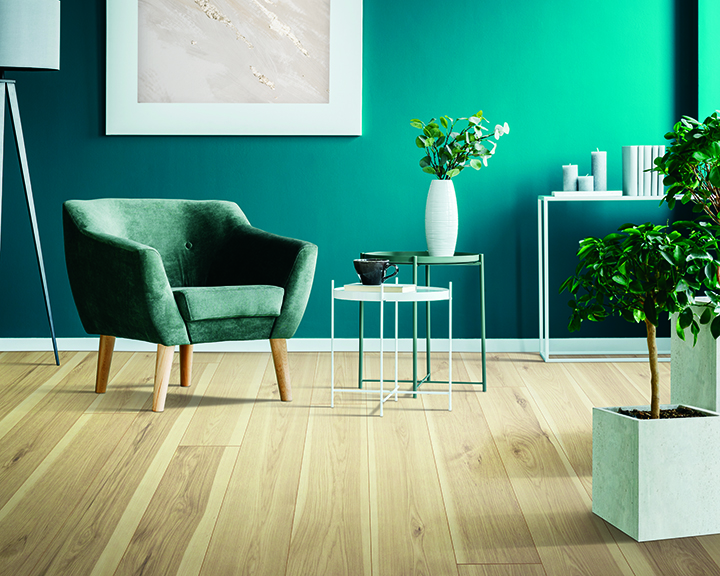 Laminate flooring does one thing really well above all else: it imitates wood flooring.
Developed decades ago as an inexpensive alternative to real wood, today's laminate flooring manufacturers have upped their game with better quality, higher water resistance and dozens of types of wood species. You'll find everything from oak, hickory, heartwood pine, tigerwood and prado.
There are handscraped, wire brushed, barnwood and antiqued versions, too, matching any style you maybe want.
All this variety is due to the photographic process used to create the design layer of laminate flooring — a high-resolution image of actual wood that's vividly realistic. The image is printed and glued to a core of fiberboard backed by a bottom layer that's treated to prevent moisture damage. It's all covered by a tough, clear top wear layer of aluminum oxide that resists scratches and dings. Embossed In Registered (EIR) is another aspect you should look for in your laminate flooring, it aligns the photographic image with the embossing of the grain, to give laminate a realistic look.
With this vast array of choices before you, here's the pros and cons you need to know:
The Good
Laminate flooring comes in planks. The edges and ends are designed to snap together with a locking system to secure them into place, with no nailing, making installation a good DIY project.
The locking systems give the pieces stability and prevents seams from opening up during changes in humidity.
Lightweight, snap-together laminate flooring is installed over a foam underlayment. That makes it a good candidate for installations over most existing flooring — with the exception of carpet — eliminating the need for tear-out. Surfaces must be fairly level, so you may need to fill in grout lines or other imperfections in the sub-floor.
Snap-together laminate flooring eliminates the need for glue or staples, making it idea for the DIY'er.
No old-growth or exotic trees are used to produce laminate flooring.
The wear layer of laminate floor, aluminum oxide, is extremely tough, which makes cleanup and maintenance easy. Occasional sweeping keeps the surface free from abrasive grit.
With the aluminum oxide wear layer, laminate is exceptional with scratch resistance.
The Bad
Installations on basement floors and slabs should include a moisture barrier. Laminate flooring in the kitchen is okay, you'll just want to clean up spills and splashes as they occur. Laminate flooring in the bathroom isn't recommended unless approved by the manufacture. No laminate should be installed in laundry rooms and rooms with sump pumps or floor drains.
Laminate flooring can't be refinished the way real wood can, so once it's worn out, it'll have to be replaced, and may require a professional installer. Check the warranty of the flooring you're thinking of buying; products with higher warranties mean better quality and longer life. Avoid cheap laminate flooring.
It may look real, but it's still a synthetic that feels unnaturally hard and can be harsh-sounding when walked on, purchase a high quality pad to help.
And a Little Bit More Good
Both Mohawk RevWood and Mannington Restorations as well as others have exceptional water proofing technologies built-in, bridging the gap between laminate and vinyl plank, making laminate an idea choice for the active family.
Flooring Liquidators has many lines of quality laminate flooring to choose from, plus all of the trims, underlayments to finish the project right, as well as knowledgeable sales associates that can help you design and install your project.