Q: How Do I Choose The Right Size Area Rug for my Room?
A: Figuring out the right size area rug for your space can be really tricky! An area rug that's too small for the space gives off an awkward, almost clunky appearance while an area rug that's too large for the space can make the room look much smaller. Making sure you purchase the right size area rug for your space will help balance out the overall décor and provide maximum visual appeal.
There's no one formula to follow to figure out the right size area rug for each room, but we've put together some helpful tips that will make the decision process easier.
Consider Standard Sizes
Before you start area rug shopping, it's important to understand some of the standard and most popular area rug sizes.
3x5 is the smallest size area rug on the market and is great next to your bed, in narrow entryways, and for dorm rooms.
4x6 area rug size is still on the smaller side but will provide a bit more coverage, making it a good option for small apartments, bedrooms, dorm rooms and bedrooms.
5x8 or 6x9 is one of the most popular size area rugs for living rooms, bedrooms, and dining rooms. When you're looking to showcase more of your hard surface flooring, this size area rug will comfortably fit beneath a bed, coffee table and dining room table while leaving a nice amount of exposed hard surface area.
8x10 is another popular size area rug for living rooms, dining rooms and bedrooms. When shopping for a dining room, you want to make sure that the chairs are still on the rug when pulled away from and underneath the table. This size area rug is typically perfect for a 6 chair table, while in the bedroom with a queen size bed, this size area rug will allow you to have 2'6" of exposure hard surface flooring on each side of the bed plus 3'6" at the end of the bed.
9x12 is the largest standard size area rug on the market. Because of the larger size and depending on the size of your room, there can be minimal hard surface flooring space, and so it gives off an almost wall-to-wall carpet look and feel.
Opt for Custom Bound Broadloom
Many leading manufacturers offer custom bound options for customers who want broadloom carpet instead of standard sized, patterned area rugs. The primary benefit of a custom bound broadloom area rug is in the sizing; customers are able to provide the manufacturer with the exact dimensions they need for their space.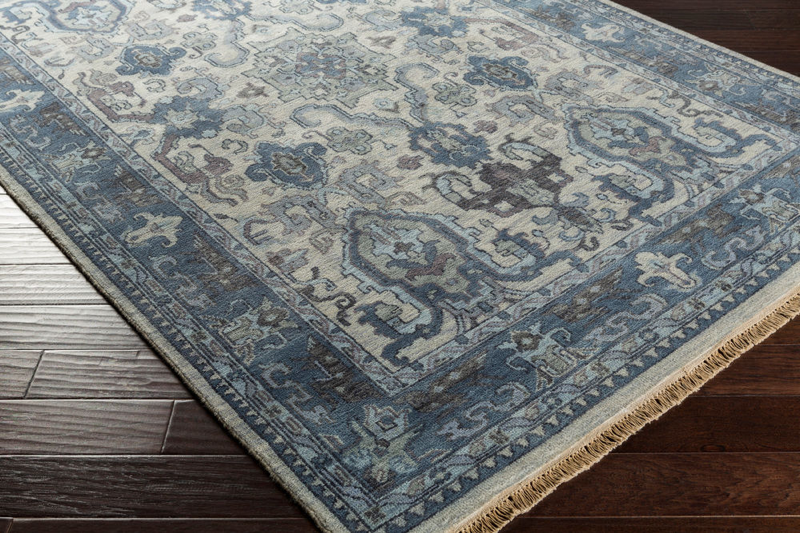 Focus on Furniture Placement vs. Room Size
Most people will measure the size of the entire room to determine the right size area rug, but that would be a mistake. It's better to configure the room first and then, once you're happy with the furniture placement, measure whatever space is available for an area rug.
Use the Tape Trick
Sometimes you just need to visualize how the area rug will look in your space to help you figure out the best size, without spending the money on an area rug that's either too small or big for the room. Using washi tape on the floor to block out the area you want to cover with a rug will help you visualize how the room will look with that size area rug. Live with the washi tape on the floor for a couple of days before you order your area rug; having an area rug outline for a couple of days will help you decide if that size is still the best size for the room.
Exposed Floor Space Around the Edges
For spaces that won't have any furniture, like hallways and entryways, it's important to determine the area rug size based on the amount of exposed floor space around the edges of the area rug. A good rule of thumb for larger spaces is to leave more exposed hard surface space around the area rug while you should decrease the amount of exposed surface space area around an area rug in smaller spaces.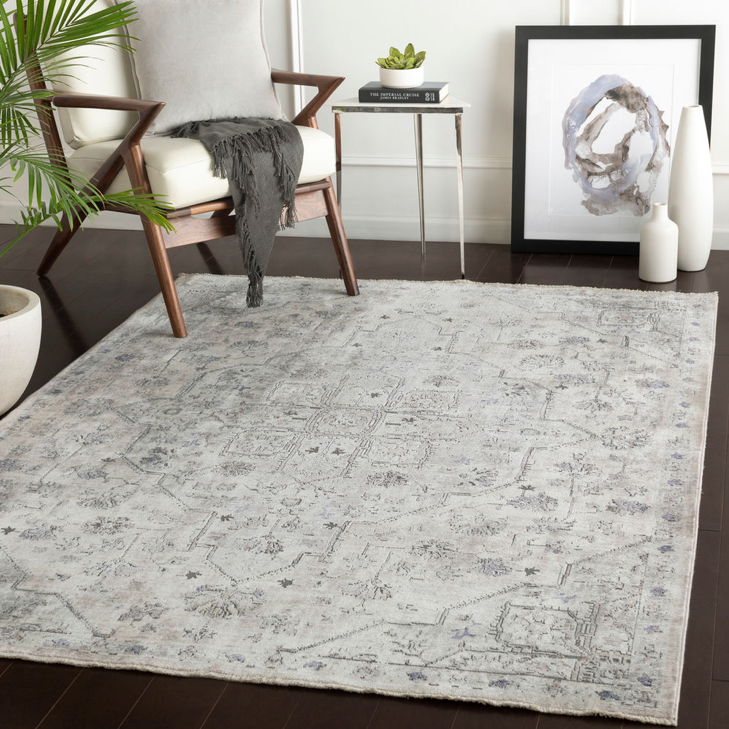 If you're still unsure which area rug size would be right for your room, check out our measurement and installation tips here: (https://flooringliquidators.net/flooring-installation/area-rug-installation)