Q: "What kind of flooring should I use in my basement remodel?"
A: We recommend a floating, waterproof or water-resistant product or wall-to-wall carpeting, depending on your needs. You should definitely not choose a solid hardwood! Select instead from a range of practical solutions that stand up to the challenges that basements present, such as cooler temperatures and damper climate.
Choosing flooring for finished basements can be a challenge. Unlike the other areas in your home, basements are considered below-grade, which essentially means below ground level. Even a finished basement is going to be cooler and more humid than the rest of your home.
This difference in climate calls for a difference in flooring. Mold and mildew are a risk in basements, and both thrive on organic materials. This rules out solid hardwood floors, which do not fare well against moisture.

Best options for basement flooring
The flooring you choose is going to come down to a combination of the needs you have and the style you're looking for. Luckily, there are a wide variety of basement flooring options that work really well in the face of below-ground moisture.
At Flooring Liquidators, we tend to direct our customers towards waterproof or water-resistant hard surface solutions that can be installed as floating floors.
Floating floors are not nailed or glued down. Instead, they rest on the surface of your existing flooring or subflooring. This provides you with the opportunity to install a moisture barrier in between the two surfaces.
Look for a waterproof product. Many recent innovations in laminate and luxury vinyl fit the bill, such as Shaw Floorte, COREtec, Quick Step and Mohawk Revwood Plus. Each of these has waterproof capabilities built-in, without the need for separate sealing or treatment. On top of that, they're all designed to resist scratches, dents and stains.
Our favorite reason to love these waterproof floors is the practically limitless potential for style! Each is designed to realistically look and feel like natural hardwood, stone or tile flooring, available in a variety of colors and textures ranging from hand-scraped hardwood to smooth, sleek tile.
With moisture as a primary basement concern, wall to wall carpeting may not seem like the most intuitive choice. However, a soft carpet can be the ideal solution when it comes to basement playrooms and bedrooms.
Carpeting is warmer than most hard surface floors, which is a great feature in cool basements. Save money by choosing something with a low pile, and definitely make sure you choose a carpet pad designed to block moisture absorption.
If you're too wary of the potential risks associated with carpet in a basement, a great alternative would be a floating hard surface floor with plush area rugs laid in each room. This gives you the benefits of a waterproof floor with a bit of added cushion and comfort – not to mention color and style!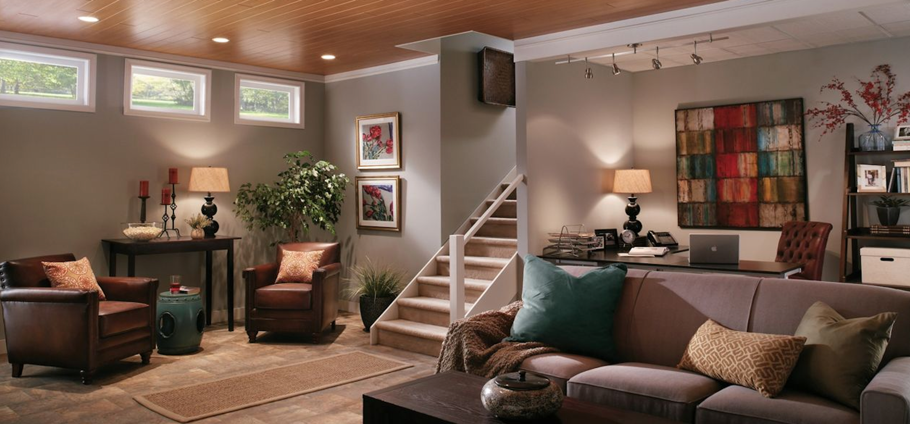 Other basement alternatives
While these are definitely our top recommendations, we acknowledge that there are still other perfectly stylish and functional options for basement flooring. Even though solid hardwood is a no-go, engineered hardwood is approved for below-grade use thanks to its versatile, layered construction.
Another option is ceramic tile, which is naturally waterproof when finished with glaze. While durable, tile also tends to get cold, a trait which is only magnified by colder basement climates. You can counteract this with area rugs!