We've all been there – stepping out of bed in the winter months, only to be greeted by the cold surface of the floors below. That's no way to wake up!
But what can you do about it? Other than carpeting, which is soft and insular, or large area rugs, most wall-to-wall floor coverings are hard surface solutions that aren't known for being warm.
One solution is to install a heating system of some kind for your flooring, whether you're working with hardwood, laminate, vinyl or tile. Radiant floor heating, for example, can be applicable to a variety of different floor plans – and there's no better time to get the job done than right before the coldest months of the year hit!
Read on for more info about when, where and how to install and use radiant heat in your floors.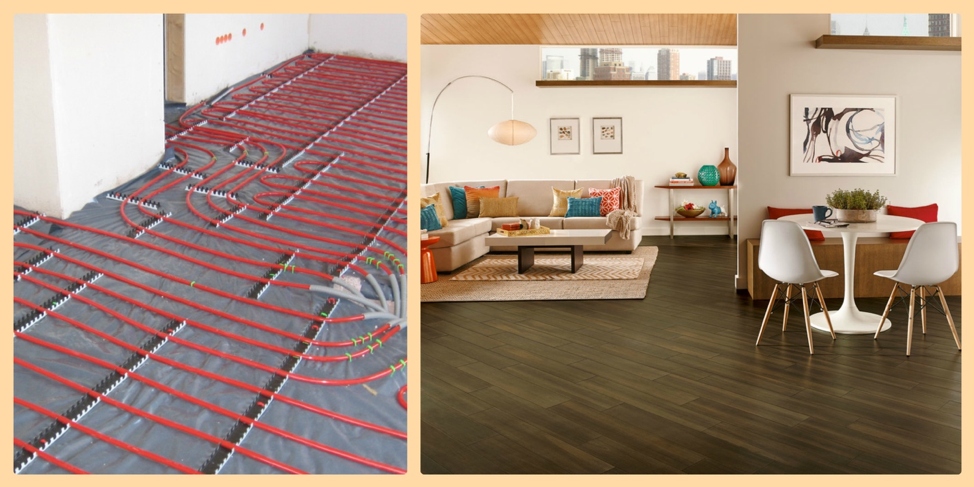 What is radiant heat flooring, and how does it work?
Radiant heat is an in-floor heating system. It can be a safe way to luxuriously heat chillier spaces in your home, or part of a larger strategy to heat and insulate your entire home.
If you're looking for ways to increase the resale value of your home, installing radiant heat is a great way to attract and upsell potential buyers.
So how does it work? To start, you need to understand the basic physics of how home heating works. Hot air has a natural tendency to rise, dispersing much of the valuable heat in your home overhead, where it largely isn't needed. This is especially an issue in homes with particularly high ceilings.
That's where heated floors come in. Not only does radiant heat warm the floors themselves, but that heat will slowly drift up through the air over time, evenly distributing heat throughout your home rather than blasting it all through a single vent at once.
In short: radiant heat in your floors will lead to more comfortable heat while using less energy. It's a highly efficient investment that will save you money later.
The challenges and benefits of heated flooring
If radiant heat is more efficient and more comfortable, why isn't it a standard in all homes? There are a variety of reasons, and a few important considerations to mull over before making a decision.
First, radiant heat is actually not very effective underneath carpeting, which already insulates rooms. In fact, the insulating properties of carpet will actually prevent heat from below from entering a room – trapping it within the carpet instead.
The hard-surface flooring types are typically much better-suited to radiant heat systems.
Challenges:
Higher installation cost than normal flooring
Longer installation time required to install a radiant heating system
Floor height needs to be adjusted to account for the space needed underneath for the heating system. Usually, floor height will increase by less than ½ inch, depending on the type of system you choose.
The longer installation time is a result of additional components that are needed to ensure safe operation of your system. For example, a self-leveling compound is typically needed between the system and the floors themselves, which requires time to dry – typically a couple days.
Benefits:
A more energy-efficient heating system that will save you money on your energy bill and more evenly and comfortably distribute heat throughout your home
Easy to operate once installed
Systems are hidden from view, giving you more freedom to design your space
Works with all flooring types (though not recommended for carpet)
Easy to install, despite the time & cost required
The ideal rooms for heated floors
So where does radiant heat work best? The most common area for installation of these systems in homes is the bathroom. Why? The most common bathroom flooring materials, natural stone and ceramic tile, are also the most efficient radiators of heat. They also tend to be some of the chilliest floors in winter, leading many homeowners to add systems to their bathrooms to combat the issue.
Other rooms where tile is commonly found, such as your home's mudroom, foyer or other entryway, are also great places for radiant heat systems. If you can imagine the extra-pleasant feeling of coming home after work in the dead of winter and being greeted by the warmth of a heated floor, it won't take you long to figure out why.
Even if you don't have a lot of tile in your home, wood floors are a good compromise. While not quite as conductive of heat, they will still radiate warmth upward, achieving a similar effect. At the same time, natural, solid wood floors are already considered a luxury by homebuyers – you can only add to that value by installing a heating system below!
How to install radiant heat flooring systems
If your home is under construction, you can have a "wet installation" done, embedding your system into concrete. If you're simply looking to upgrade your existing home by retrofitting a system beneath your current floor, you can layer a heating system above, below or within your subfloor.
You don't have to fill a whole room with radiant heat – one common practice is to heat an accent area, such as the space immediately surrounding a toilet, tub or shower.
If you're thinking about replacing the flooring in part of your home, you may want to consider installing a radiant heat system at the same time to kill two birds with one stone. While you're here, we encourage you to explore the many beautiful and affordable hardwood, laminate, vinyl and tile options available to you from Flooring Liquidators! All of these products would make a great pair with a new heated flooring system.