Exploring new flooring options for your next home or business renovation project? You've probably come across three very similar-looking products in your search: hardwood, laminate and vinyl flooring.
All three of these are popular hard-surface flooring options, and we get asked a lot questions about features, care, installation and more. Whatever answers you're searching for, you may find them here – read on for a list of the 6 important questions we get asked most often about these flooring types.
1. What are the key differences between hardwood, vinyl & laminate flooring, as well as their unique qualities?
While all three may look like wood, hardwood is the only option that is made using 100% real wood – both vinyl and laminate can contain real wood components, but do not always.
Vinyl and laminate are each made using a different set of materials, layered together. Their similarities, however, are what set them apart most from hardwood. Unlike hardwood, both can be installed on any grade in any room of the home.
There are laminate and vinyl products that have water-resistant (or even waterproof) qualities, standing up to moisture where real wood cannot.
2. What are the respective pros and cons of hardwood, vinyl & laminate flooring?
Hardwood's biggest advantages over the competition are value it brings to a home and its longevity. Natural hardwood can be more expensive than other types of flooring, but it also lasts for many years and can be refinished several times throughout its lifespan. Homebuyers generally prize hardwood for its natural beauty. When installing hardwood, keep in mind that it will buckle when exposed to moisture and cannot be installed in basements.
Laminate's biggest benefit over hardwood and vinyl is its affordability and built-in resistant to scratches and stains. Vinyl is generally a step above laminate in durability, but can be more expensive. Both vinyl and laminate are easier to install and offer a much wider variety of style options than hardwood, as well. Hardwood floor designs are generally limited to the types of wood available in nature. That said, there are still many types of hardwood flooring, as there are types of laminate flooring and vinyl.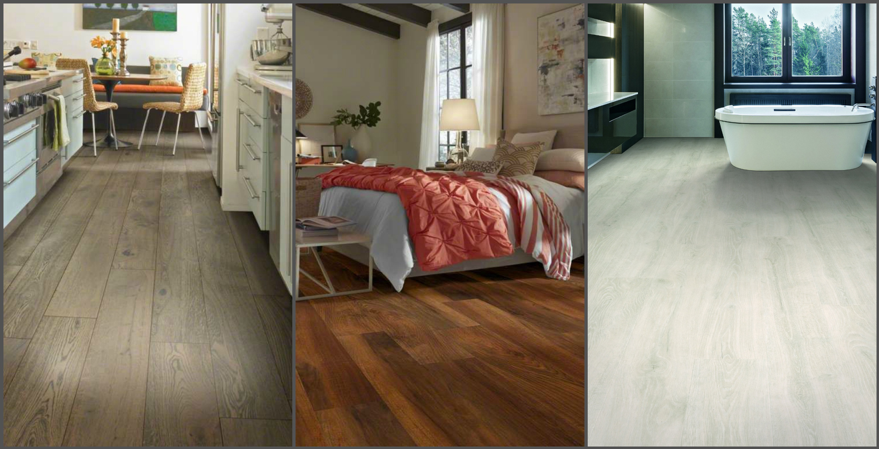 3. Which rooms are most suitable for hardwood, vinyl & laminate flooring?
Hardwood is impressive and beautiful, ideal for guest spaces. Install hardwood in dining rooms and bedrooms, protecting it from wear with an area rug.
For more high-traffic spaces such as kitchens, laminate is a great choice because it's a little softer on the feet. Vinyl, especially the waterproof varieties, are better suited for finished basements and bathrooms.
4. How do you install hardwood, vinyl & laminate flooring?
When it comes to hardwood flooring, we highly recommend professional installation to avoid damage to any of the already expensive materials. When installing hardwood, subfloors should be completely flat and intact, with no trace of moisture. You need to consider centered and staggered plank placement, how to trim planks, and how to account for inevitable expansion that wood floors go through.
You should consult your manufacturer guide for instructions on how to install vinyl floor planks or laminate flooring. Both are manageable DIY projects relative to hardwood. While we always still recommend professional installation, we understand that some homeowners may be interested in taking on the challenge. Installation methods vary by product, but many floors nowadays can be clicked and locked together as a floating floor, either over a subfloor or existing flooring. You also may require adhesive or vinyl flooring underlayment to ensure that your floors stay in place and are comfortable to walk on.
5. How do you properly maintain hardwood, vinyl & laminate flooring?
Hardwood flooring care is relatively simple. Sweep regularly with a dust mop or soft broom, avoiding wet or steam mops for hardwood flooring cleaning (as these can cause moisture damage). You can also place throw rugs and mats at all entrances to help prevent wear from foot traffic and the tracking in of dirt and debris.
You can use the same strategy for vinyl and laminate floors as well – area rugs are perfect for all flooring types! You should also avoid walking on laminate with high heels or cleats, and place protective pads underneath all furniture. The best cleaner for vinyl flooring is one recommended by your manufacturer – generally non-sudsy and free of artificial coloring. As for how to clean vinyl floor planks, it's safe to use a damp mop, with a felt cloth to dry.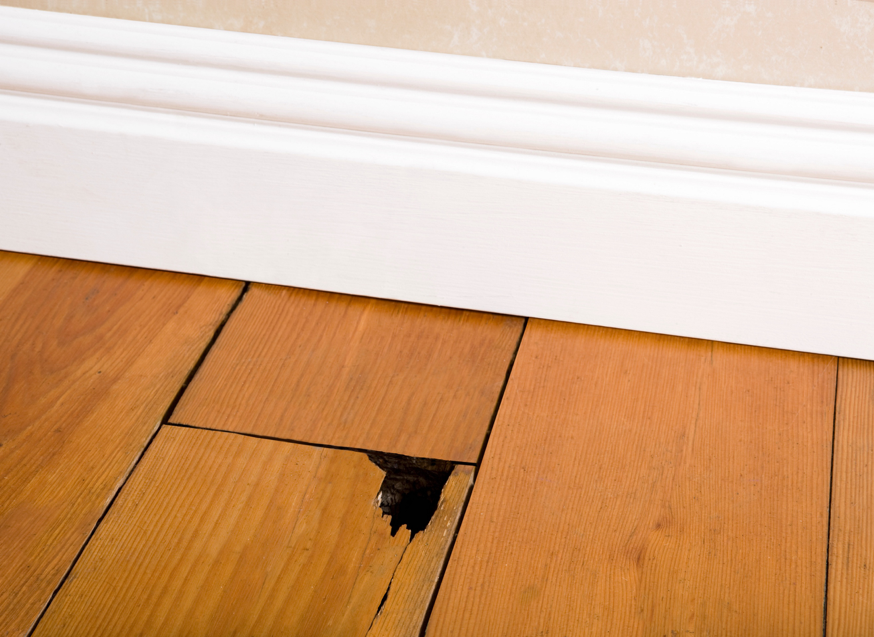 6. When should old hardwood, vinyl & laminate floors be replaced?
Hardwood can be susceptible to scratches and dents, but usually this doesn't warrant full replacement. Repairing hardwood floors can be as simple as renewing your floor's luster with a wood flooring cleaner, or sanding down the surface and refinish it and repair scratches. You should only replace hardwood when sharp or deep chips and holes appear in the floor that could injure you or a family member.
Vinyl and laminate floor scratch repair is different. These surfaces should never be refinished – when they become noticeably damaged, it's time to replace your floors. Luckily both laminate and vinyl can be installed as floating or click-lock flooring, making it easy to replace individually damaged tiles or planks without removing the whole installation.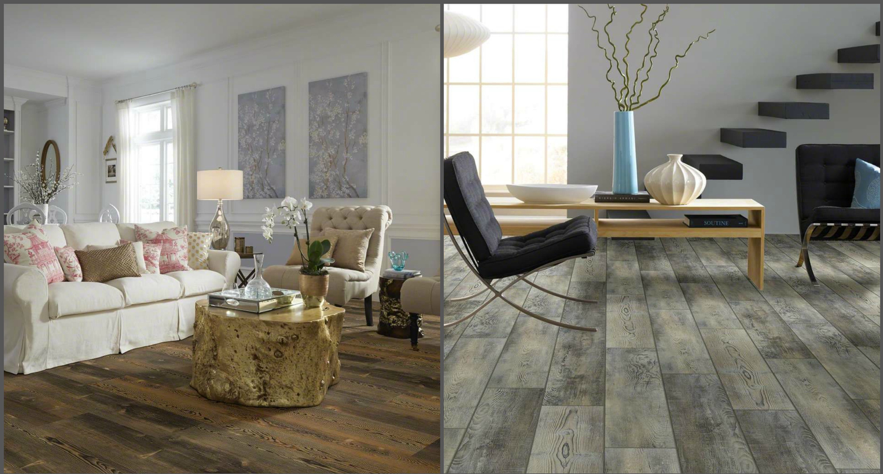 BONUS QUESTION: Where can I find the right kind of hardwood, vinyl or laminate flooring?
We may be a little biased, but as far as selection and pricing go, Flooring Liquidators is the best place to shop for any of these hard surface flooring options. Browse our extensive online catalog and narrow your search down to the best possible flooring option for your next project!
Our service team is always standing by to help.