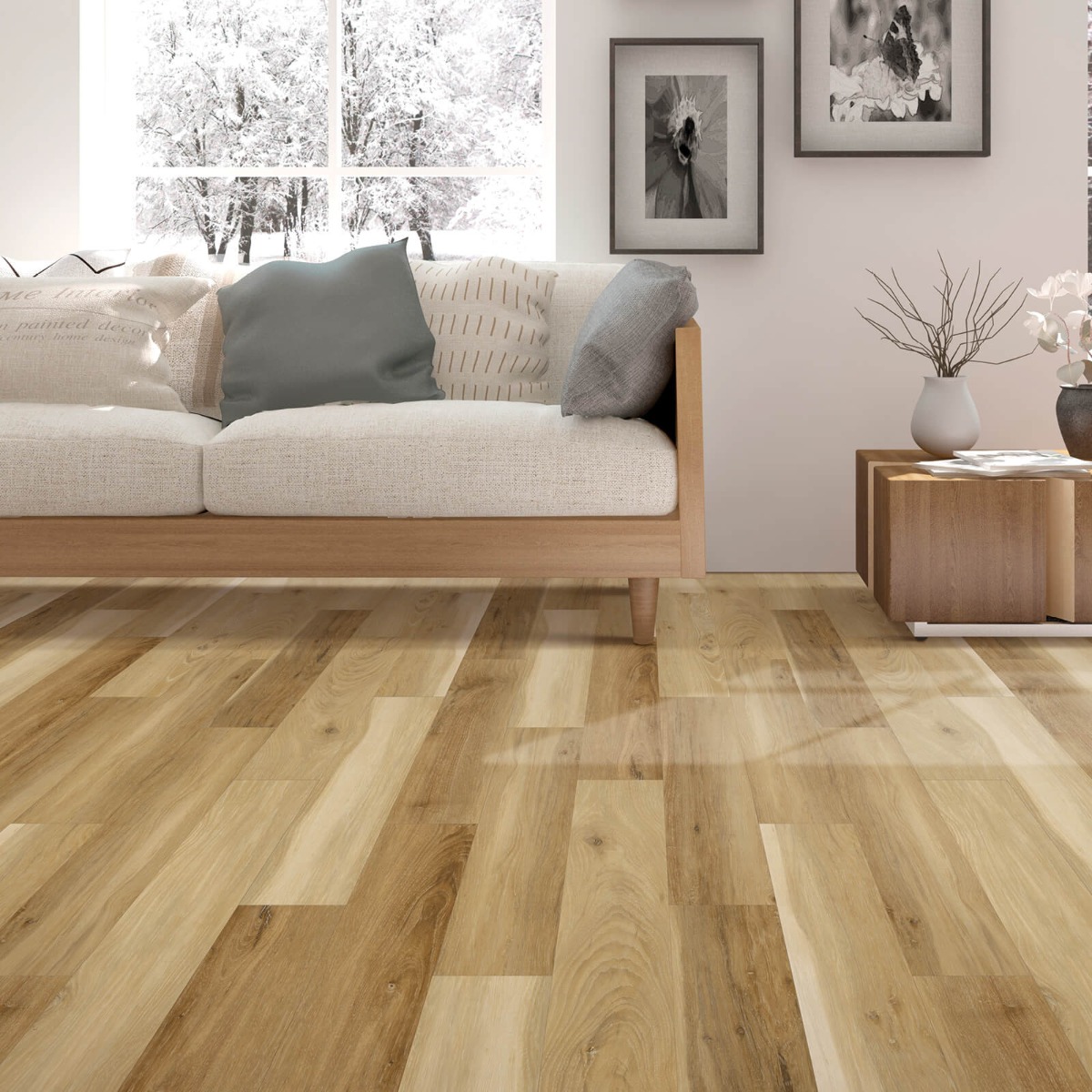 Today's modern world is fast-paced and full of adventure, and our homes have to keep with our energetic daily lives! With kids, pets, and all the accidental spills that come with an active household, waterproof flooring continues to grow in popularity from consumers who want the beauty of wood without the stress of maintaining traditional hardwood flooring.
That's where RevWood Plus from Mohawk comes in. RevWood is Mohawk's waterproof laminated wood that offers superior performance and gorgeous realistic visuals from a highly trusted flooring manufacturer. Along with some of the most impressive warranties offered industry-wide, domestically produced RevWood is making a major impact in homes across the nation. Here are some valuable characteristics you should know:
Innovative Performance - For wood without compromise, look no further than RevWood. You don't have to sacrifice beauty for performance with these easy-to-install wood floors that are exceptionally durable, stain-resistant and receive the added benefits of HydroSeal moisture protection. A wood floor that features a waterproof flooring system? Yes! The "Rev" stands for 'revolutionary' and that accurately describes these floors. Your waterproof surface is also exceptionally easy to clean and maintain, something all busy homeowners can appreciate. RevWood protection superiorly resists scratches, dents, and fading for long-lasting beauty.
Visual Impact - It's easy to fall in love with the light texture, knots and rustic characteristics that RevWood provides. With clean visuals and refined character, RevWood collections feature attractive species such as European Oak, maple and hickory. These products will deliver major warmth through rich color palettes including naturals, beiges, grays, copper shades, as well as coastal-inspired tones. These trending colors are specifically designed to coordinate with any decor. RevWood also meets the demand for longer, wider planks that work well with the current housing trend of more open floorplans.
All Pets Are Covered - RevWood floors also come with Mohawk's All Pet Plus Protection warranty that covers all pets, all accidents, all the time. That goes for our favorite dogs and cats, as well as rabbits, guinea pigs, hamsters and more. There's nothing like the peace of mind in knowing that you can have beautiful wood-look flooring that's durable enough to handle kids and pets!
When you're ready to explore amazing RevWood products for your home, get in touch with the experts at Flooring Liquidators for all your hard surface flooring needs!