Area rugs are the unsung heroes of our interior design! From solid shades, patterned varieties, and printed graphics, to woven construction, supremely soft shag, and multi-cut piles, area rugs provide the perfect pop of color and texture wherever we use them.
We can add gorgeous area rugs to frame and support our furniture in our living rooms while completing the overall decor. A themed area rug may lend a playful touch to our kitchen and bathroom, in addition to adding comfort and support underfoot. When it comes to dirt and debris, the area rugs we employ at our entranceways are a valuable defense for our gorgeous surfaces against abrasion offenders.
Different area rug constructions will provide different types of performance, and it's worth exploring these options for maximum effectiveness in your home. Here's your quick guide to common area rug materials.
Wool
Timeless and true, natural wool fibers produce strikingly gorgeous, soft and durable rugs that also inherently repel liquid. Although wool rugs may be pricier to purchase and to have professionally cleaned, a flat weave option will decrease the amount of piling and shedding. A solid investment, wool rugs can handle an active family and maintain its beauty for years. The popularity of wool rugs is no accident!
Nylon
With an overall winning combination of price, performance, and style, nylon area rugs are a sound choice for the average home. Nylon is not only easy to clean and resists debris, but it will also handle heavy traffic while upholding its natural sheen. In the long-term, nylon rugs can fade before other materials. However, it's the perfect rug type to indulge in a bold, trendy design without maxing out the design budget.
Cotton
If you love the natural look and feel of wool, cotton can provide an incredibly stylish yet more affordable option. Easy to dye and produce a never-ending array of colors, cotton rugs are more casual and many can even be machine-washed! Cotton will provide suitable durability but will need to be replaced sooner than other more durable constructions. Overall, cotton is a great combination of price and design capability for the average household.
Polyester
Not only are polyester rugs extremely durable, they are available at a tremendous price point. Your polyester rugs will resist wear-and-tear with ease, and even stand up to fading and bleaching. Polyester will not offer the widest range of design options, but you can find polyester rugs made from 100% recycled PET fiber! Make sure you explore polyester rugs for style, value, and even sustainability.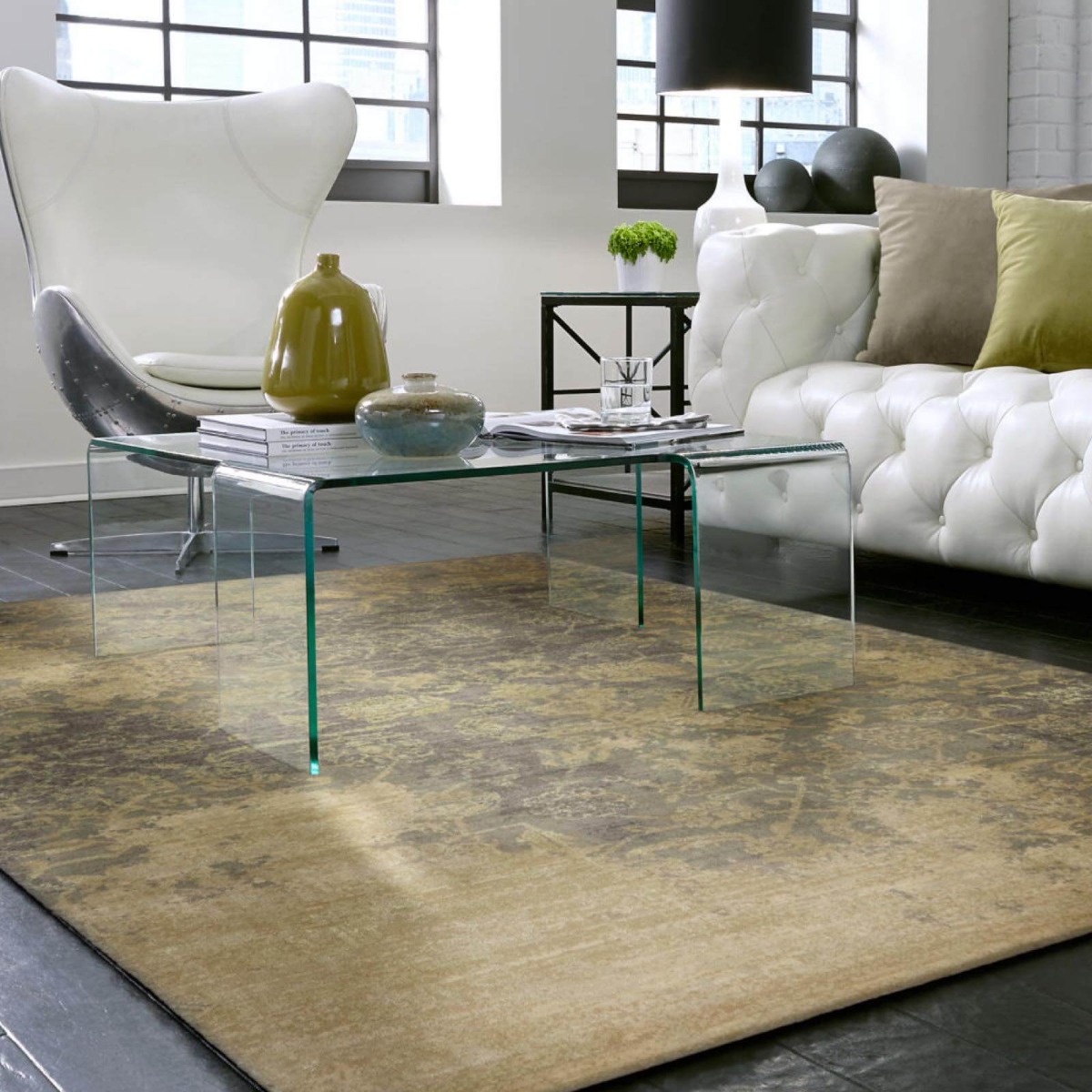 Polypropylene
Easier to design with than it is to pronounce, polypropylene rugs are also referred to as olefin and are extremely popular. Thanks to their ability to withstand moisture, repel stains and handle foot traffic, polypropylene is a common material used for indoor/outdoor rugs. Use these rugs for porches, garages, and entrances to protect your home from tracked-in dirt and debris.
Silk
Soft and luxurious underfoot, silk fibers produce beautiful rugs with an undeniable shine and comfort factor. Although these rugs may not be the best fit for the most active homes or high traffic areas, they will bring joy and relaxation in rooms designated for downtime like living rooms and bedrooms.
Rotating different area rugs is a great way to help achieve a seasonal design refresh. Once you decide which materials will suit your needs best, shop online for rugs from the industry's most recognized manufacturers and arm your favorite room with extra style, comfort and performance.