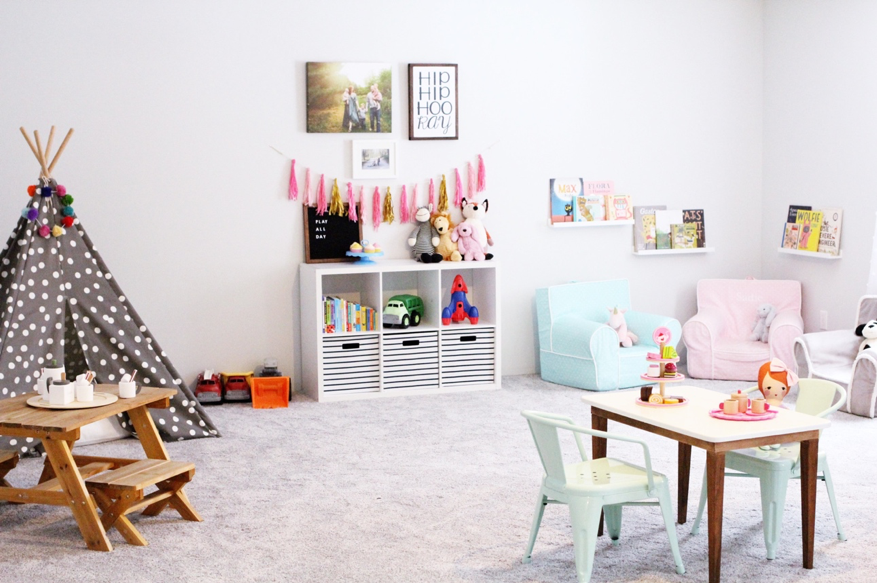 Q. What is the best carpet for a baby's room?
A. Nursery décor comes in all different styles these days, with carpet for flooring a consistent must-have design element. It makes sense that carpet would be the popular choice as flooring for a baby's bedroom.
Carpets are soft underfoot, which is the ideal surface for when your baby is doing tummy time, learning how to crawl or walk, and when you need an emergency surface to change that blow-out diaper.
But there are a lot of other qualities you need to look for when choosing the best carpet for your nursery:
Softness: Just because it's a carpet, doesn't mean it has a soft surface. It's important to understand carpet pile as well as carpet fibers when you're shopping for soft surface flooring for your baby's bedroom. Choose thicker, longer carpet pile instead of flat styles, which aren't as soft underfoot. Shag carpets, with longer carpet fibers, are a great pick for the nursery. When it comes to carpet fibers, you'll also want the healthiest, softest fibers available. While some manufacturers offer extremely soft synthetic fibers from nylon or polyester, wool and cotton are naturally soft carpet fibers.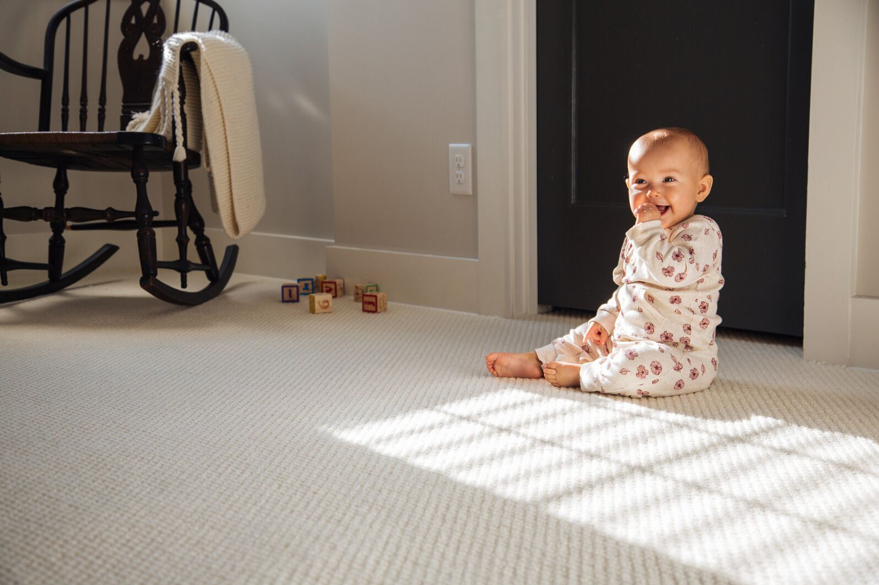 Karastan Wool and SmartStrand Forever Clean carpets are both excellent choices for the nursery. Wool carpets by Karastan offers the softest most luxurious carpet fibers imaginable, culled from 100% New Zealand wool. Wool carpets are also extremely durable and can easily withstand high-foot traffic as your child grows. SmartStrand Forever Clean carpet fibers are also one of the most innovative fibers on the market. In addition to beauty and comfort, these carpets are high performing and include built-in stain and soil protection, all great qualities for your nursery's flooring.
Cleanability: Kids can be messy, and having a newborn is no different. With frequent diaper leaks, occasional spilled bottles, and for that one time the new tube of diaper rash cream explodes all over the nursery, look to choose a carpet that's quick and easy to clean. You'll want to spend whatever free time you have bonding with your new baby, not cleaning up after him.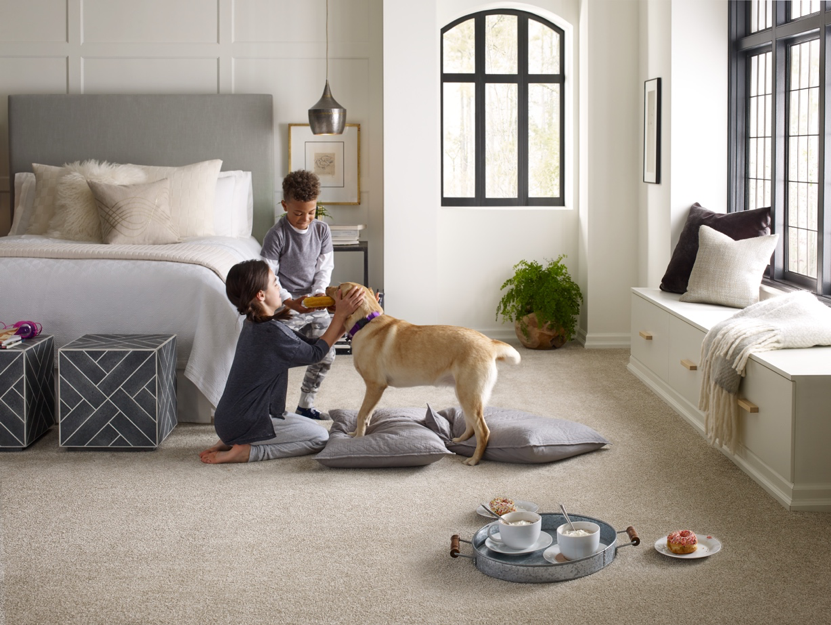 Shaw Floors ColorWall with LifeGuard® Spill-Proof Backing™ is another good choice for the baby's room, especially if you're looking for easy to clean, spill proof and extremely soft carpet. With a plethora of gorgeous hues to choose from, you'll fall in love with the premium soft fibers in the color that perfectly matches or compliments your nursery's décor. You'll be grateful that your carpet comes with LifeGuard® Spill-Proof Backing,™ which makes clean up easy and protects your subfloor from spills or diaper accidents leaking through.
Healthy & Eco-Friendly: Many home building materials contain VOC's, or volatile organic compounds, which aren't safe for inhalation. Search for carpets that are either VOC free or have low levels of VOC's to keep the air quality in your baby's room healthy. Make sure to also air out the room for a couple of days after your carpet is installed, so that whatever VOC's are released in the bedroom are vented out of the room before the birth of your baby.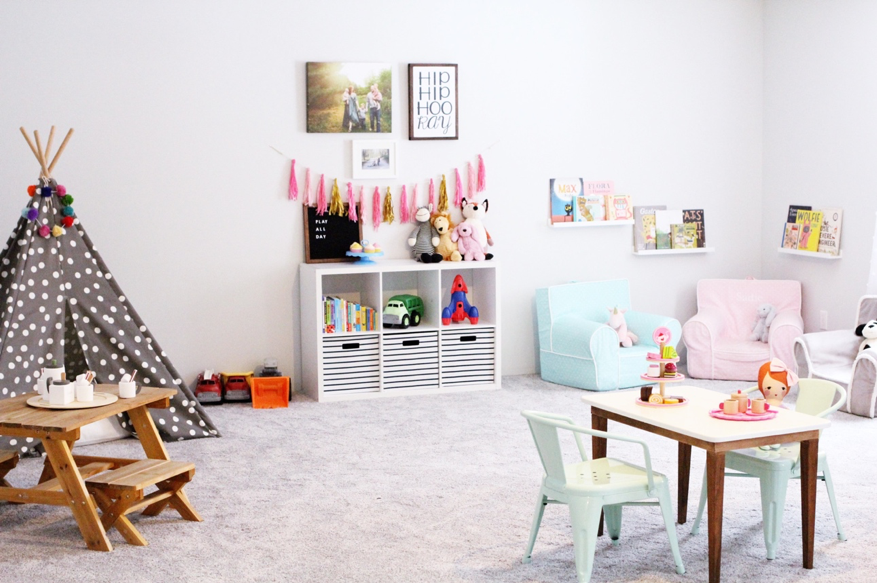 Mohawk Flooring's Air.o hypoallergenic soft carpet is a great choice for nurseries. In addition to their soft carpet fibers, Air.o is also easy to clean and VOC-free; the carpet was created without any latex or other harmful VOC's so it's safe to use in your baby's bedroom. Air.o carpets are also constructed to provide better airflow, so they're asthma and allergy friendly; dust and dirt don't get trapped into the carpet fibers and are easily vacuumed away.
Durability: Even though the baby's room is not a high-traffic area in the home, you still want to look for a carpet that's durable, especially if you want your flooring to grow with your child. The baby's room won't need to withstand so much wear and tear at the early stages, but once your child heads into their toddler years and beyond, you'll want to know that there's a lot more longevity in your carpet selection.
What quality is most important to you when shopping for a new carpet for the nursery? Reach out to any of our flooring specialists with questions, or shop our selection of carpets here.