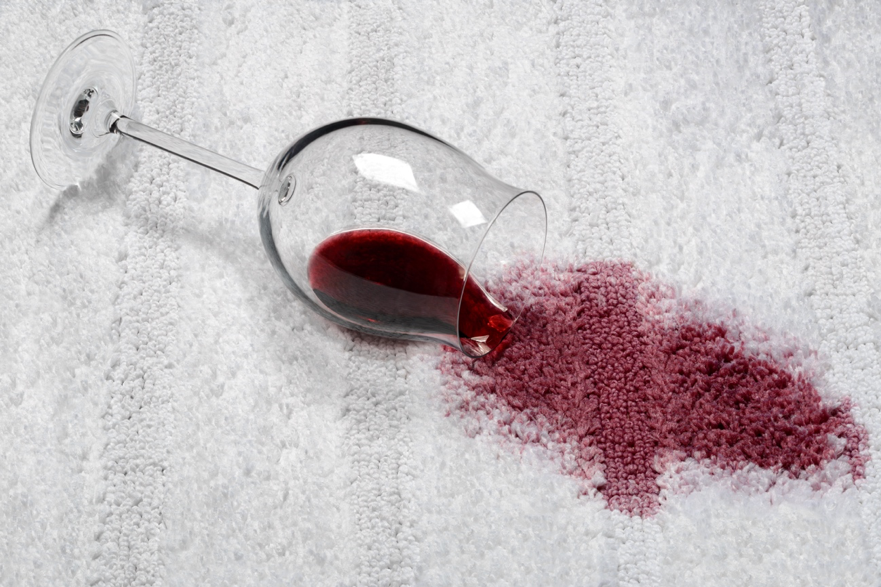 Q. How do I remove a red wine stain from my carpet?
A. Follow this 5-step guide: Blot, Dilute, Absorb, Spray, Deep Clean.
Accidents happen, whether you're enjoying a quiet evening at home relaxing with a glass of your favorite Bordeaux, or you're hosting a fabulous party and a guest gets a little rowdy. Red wine spills, and your initial reaction might be one of despair at seeing a large, burgundy colored stain saturate your carpet. If it's a light-colored carpet, you might feel a bit more panicked than if the wine blends in with darker fibers. For most, the fear is that the stain could become permanent.
Don't panic! Follow this easy 5-step guide to cleaning a red wine stain out of your carpet, and your carpet could be looking like new again in no time.
Consult Manufacturer Guidelines
Before attempting to clean any stains out of your carpets, we recommend that you consult the carpet manufacturers care and maintenance guide. Many leading carpet manufacturers, such as Mohawk Flooring, STAINMASTER and Shaw Floors, have online tips for dealing with common households stains such as spilled red wine on your carpet. Each manufacturer will have the right care and cleaning tips for their products, which will ensure maximum effectiveness as you tackle that tough stain.
Step one: Blot the Stain Immediately
If you are right there when the spill occurs, quickly use a clean cloth to soak up as much of the spilled wine as possible. Always use a dry area of the cloth to soak up the spill; you want to stop liquid from soaking through your carpet fibers. If you're entertaining and you don't have time to immediately care for the red wine stain, blot away as much liquid as possible, and then pour salt all over the area. Once your guests leave, vacuum away the salt and then follow steps 2-5, listed below.
Step two: Dilute with Water
Once you've blotted away the wine, slowly dilute the stain with a little water. Pour a bit of water at a time and continue to blot the stain using a clean cloth. Don't use too much water at a time and make sure to keep using a dry, clean area of cloth as you blot. Continue to use fresh water to blot away the red wine stain until either the stain is completely gone, or you feel like this method is no longer working on whatever red wine remains on your carpet.
Step three: Apply Baking Soda
Baking soda is known for its cleaning and absorbing properties, which is probably why you still keep a box of Arm and Hammer baking soda at the back of your refrigerator. Baking soda is great for absorbing odors and stains, especially stains soaked into carpet fibers. Make a paste using a 3-to-1 ratio of baking soda to water and apply directly to the affected area of your carpet. Let the paste dry completely and then vacuum up the baking soda solution.
Step four: Spray with Carpet Stain Remover
If you still have any red wine stain left on your carpet after following steps 1-3, we recommend spraying the area with a carpet stain remover. Follow the instructions on the bottle and then, once dry, vacuum your carpet. You'll find a list of some of the best carpet stain removers HERE.
Step five: Deep clean your carpet
We recommend calling in the professionals for a deep carpet cleaning at least every six months, but you might want to move up your annual timeline, especially after cleaning a tough stain like red wine out of your carpet. If the stain was sitting on your carpet for a while before you noticed the spill, or if you still see even a hint of red wine residue, call in a professional cleaning company to remove all remnants of a red wine stain.