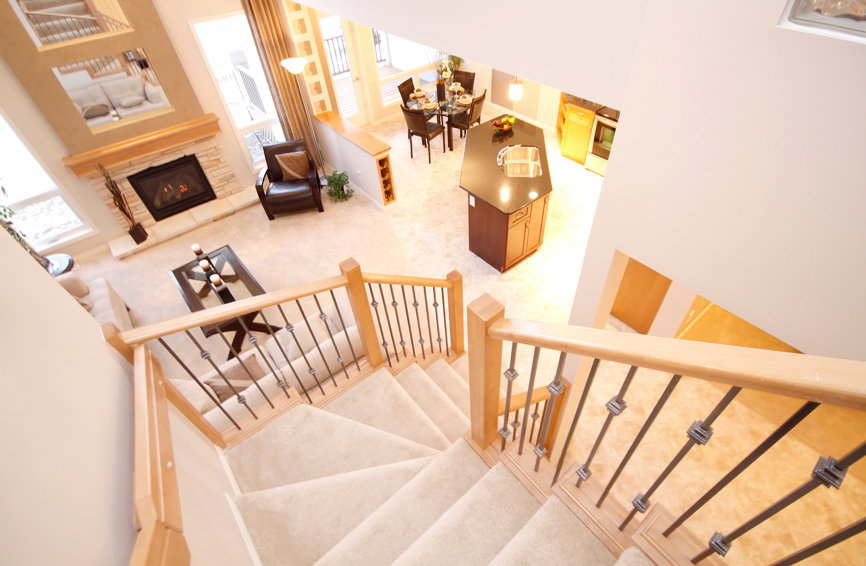 Q. What is the best carpet for stairs?
A. As beautiful as hard surface flooring might look in a home, most homeowners still prefer to install carpet on their stairs. Hard surface steps can become slippery when wet, and that can lead to in-home accidents. When falling on steps, injuries are historically less severe on carpet than hard surfaces, since carpeting can cushion the fall.
When it comes time to choose the right carpet for your stairs, it's important to note that the carpet you select for other rooms in your home like the bedrooms or hallway, won't be the optimal choice for a staircase. For stairs, you need to think about the following four factors:
Durability
Thickness
Soil Resistant
Design
Durability
Did you know that stairs are actually the highest-traffic area in a home? Because stairs are constantly taking a beating from frequent, daily use, they require the most durable carpeting you can afford. Mohawk Flooring's Wear Dated carpets with premium nylon fibers, for example, are highly wear resistant, so it won't crush or mat when the kids thunder down the steps every morning. This carpet is also performance tested, and it's guaranteed to stand up to the highest foot traffic, which makes it a great choice for homes with kids and pets!
Thickness
Your gut reaction might be to select a super thick carpet to cover the stairs, but we're here to debunk that opinion! Really thick carpets on stairs are not an optimal choice; too thick a carpet on the stairs can cause people to trip and fall. It's also extremely difficult to install around the front edge of each step and through the railing pegs. Thinner but highly durable carpets would work best to cover the staircase.
Soil Resistant
Most people fall in one of two camps: leave the shoes at the door or allow shoes in the house. Either way, stairs are a magnet for soil and the occasional stain (i.e. that accidental wine spill when you were taking your glass of red wine to the bedroom). The bottom of your shoes can track in dirt and mess from the outside and soil the carpet, plus pets frequently track in dirt, mud, grass and other outdoor messes. While when you're barefoot, the oils found on the bottom of your feet can also contribute to soil marks over time. It's crucial to select a durable carpet that's also stain and soil resistant, where the carpet fibers naturally repel soil that can be easily vacuumed away. The Caress collection by Shaw Floors would be a great choice; featuring Shaw's premier Anso nylon fiber with R2X stain, soil and odor resistance, it offers a lifetime stain, soil and pet warranty.
Design
The design of the carpet you choose for your staircase really is all up to you! We've seen some bold, beautiful animal prints cut, surged and installed over hardwood flooring as a stair runner. Plaid, stripes and woven patterned carpets are all elegant choices for the stairs. For that classic look, select a 100% nylon solid colored neutral carpet from brands like Stainmaster and Anderson Tuftex.
Shop our selection of carpets that are durable, stain and soil resistant, and perfect for your stairs here.