Q: "What is waterproof flooring?"
A: Simply put, waterproof flooring is any flooring product that is 100% resistant to water and moisture.
Waterproof flooring actually refers to a number or products spread across a variety of broader flooring categories. You'll find waterproof construction in hardwood, vinyl plank, vinyl tile and laminate flooring.
Waterproof floors are ideal for any room, but are particularly popular in spaces where spills tend to be an issue – this includes bathrooms, kitchens, and mudrooms. They're one part practical, one part beautiful and home-y!
Reasons you may want to opt for waterproof flooring
You're designing in a space that's prone to moisture or spills
You have an active family with small children who love to make messes
You have indoor pets and are concerned about accidents
Many major types of flooring, however beautiful, don't deal well with water. Wood and laminate, for example, tend to buckle and warp when repeatedly exposed to water. Carpeting absorbs liquid and then becomes stained or full of mildew.
Luckily, there are a variety of alternatives available for the modern home, many of which you can find right here at Flooring Liquidators, ready to purchase online and ship directly to your door!
While different in their own ways, each of these floors offers high-quality wood or tile visuals that mimic the beautiful styles most homeowners want, along with realistic textures, incredible durability and resistance to not just water, but scratches, dents and stains. Some even feature an attached underlayment for easier installation!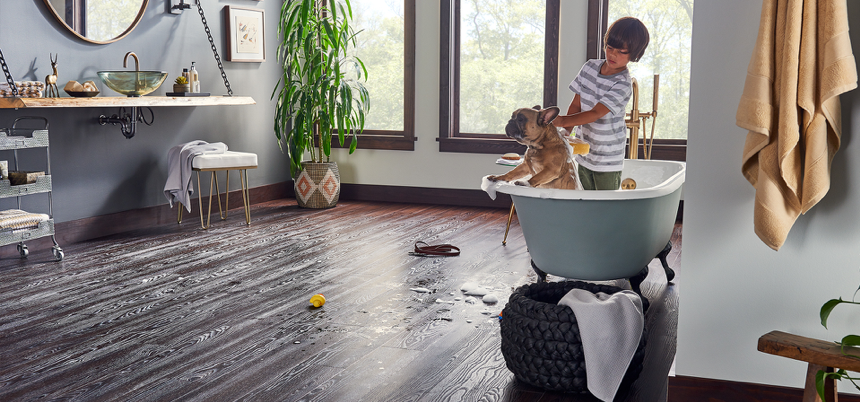 The pros of waterproof flooring
100% waterproof. No fine print. True waterproof flooring is fully able to withstand exposure to not only water, but a variety of other common liquids spills, guaranteed.
Incredible durability. Waterproof flooring tends to be made from several layers of durable material designed to stand up to moisture and a variety of common forms of wear and tear. The exact materials differ from product to product, but the durability remains consistent.
Floating installation. Most waterproof products can be installed directly overtop of an existing floor, or even an imperfect subfloor.
Realistic hardwood, stone and ceramic looks. Before you opt for real hardwood or tile, consider waterproof as an alternative. You may find that you can hardly tell the difference, especially once the floors have been installed. Modern manufacturing technology has made these floors incredibly convincing.
Low maintenance. Waterproof floors are so easy to clean! Just sweep regularly and occasionally wet-mop, and you're pretty much set.
Isn't traditional tile flooring waterproof?
Some is, yes! You'll still commonly find ceramic and porcelain tile laid in bathrooms, and that's largely due to the durable glaze that tops most tile floors. This glaze won't let liquids through, and it makes tile easy to clean.
We don't discourage the use of tile in certain installations. It's a beautiful, traditional option that still has a place in modern design. When comparing tile to waterproof flooring, however, we usually point out the following:
Tile is more difficult to install. It's definitely not a DIY-friendly project, so you'll likely need to hire a pro to help out.
Tile gets cold! If you live in a warm environment, you might consider this a plus – but if you weather cold winters, tile won't feel great – unless you opt for radiant heat underneath or invest in a solid pair of slippers!
Tile is harder on your feet. It's hard and rigid, putting more pressure on your feet and offering less forgiveness when you drop a plate or take a tumble. Waterproof floors, on the other hand, are more resilient and offer some give.
Ready to explore your waterproof options? Here are some great places to get started!