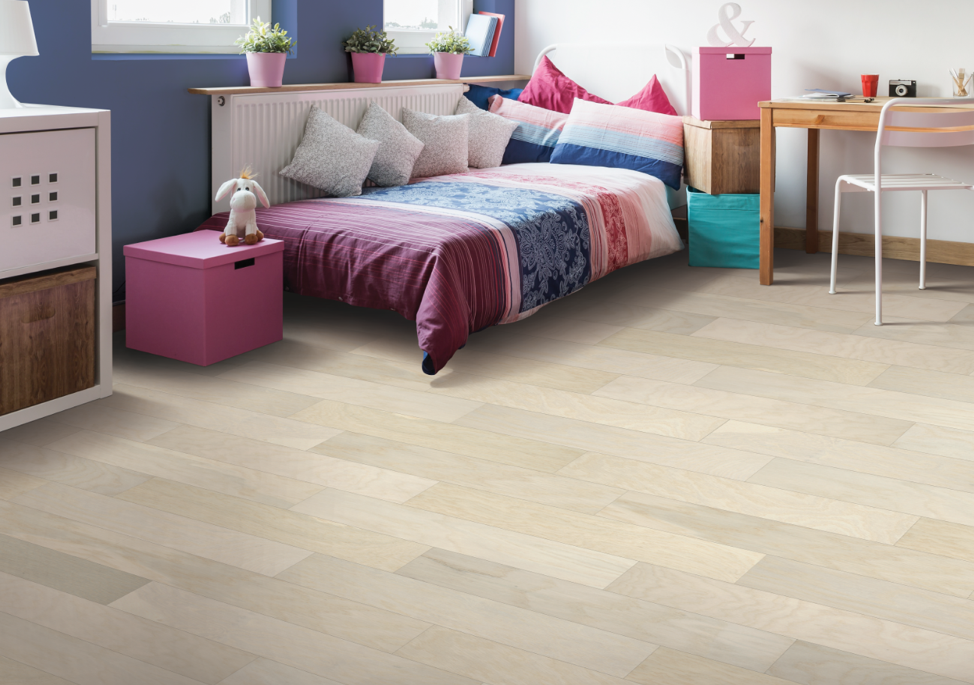 With Summer coming to a close and our kids heading back to school, we're turning our thoughts toward the Fall ahead. The holidays are just around the corner, and it's the perfect time to finish some renovating and redecorating before the weather starts to cool and family comes to town.
Especially since the kids are no longer home during the day, taking the time to redo children's bedrooms and playrooms with some back to school flooring can really pay off in the long run. This time of year, you can take advantage of deals during Labor Day sales to get affordable pricing on kid-friendly flooring.
At Flooring Liquidators, we have the expertise you need to be a savvy renovator and get things done in style! Read on for more info about designing with flooring for children's rooms, and visit our other resources like Flooring Education and Flooring Inspiration galleries for more info about flooring and design in general.
What makes a kid-friendly floor?
No room sees as much activity as a child's playroom or bedroom – so it only makes sense to choose a solution that will stand up to their high energy (and messes)!
At the same time, you want floors that will look great while they perform. Kids won't stay kids forever, and having beautiful flooring that lasts throughout the duration of their childhoods & beyond will help maintain the value of your home and put off the need for future renovations longer.
You can consider several different types of options kids bedroom flooring or playroom flooring, each with its own features to weigh.
Carpet works well to create a soft, forgiving surface for play, and comes in a huge variety of colors to help you match to just about any decor. Kids carpet is a great solution for babies and toddlers who are prone to falls and bumps, as well as a soft surface where older kids can sprawl their toys out on the floor and play for hours.
Innovations from the industry's top brands have made modern kids carpet more stain-resistant than ever, making cleaning up messes easy. You can also opt for kids carpet tiles, which can be easily replaced if only a small section of the floor gets stained. With proper care, your children's carpeting can even work to improve your room's indoor air quality, making for a healthier environment for your little ones.
Solid hardwood is a classic choice for long-lasting flooring. It's got that traditional look that seems like it will never go out of style, and it can easily be re-sanded and re-finished if it sustains any damage. This is good when you consider the wear and tear a toddler can cause. Better yet, you can further put off the damage by laying down an area rug, which we recommend in order to create a softer surface for play.
Other considerations include the style – for example, you can opt for a hand-scraped look to help camouflage scratches and dents from toys. And if solid hardwood is out of your budget, try an engineered hardwood instead.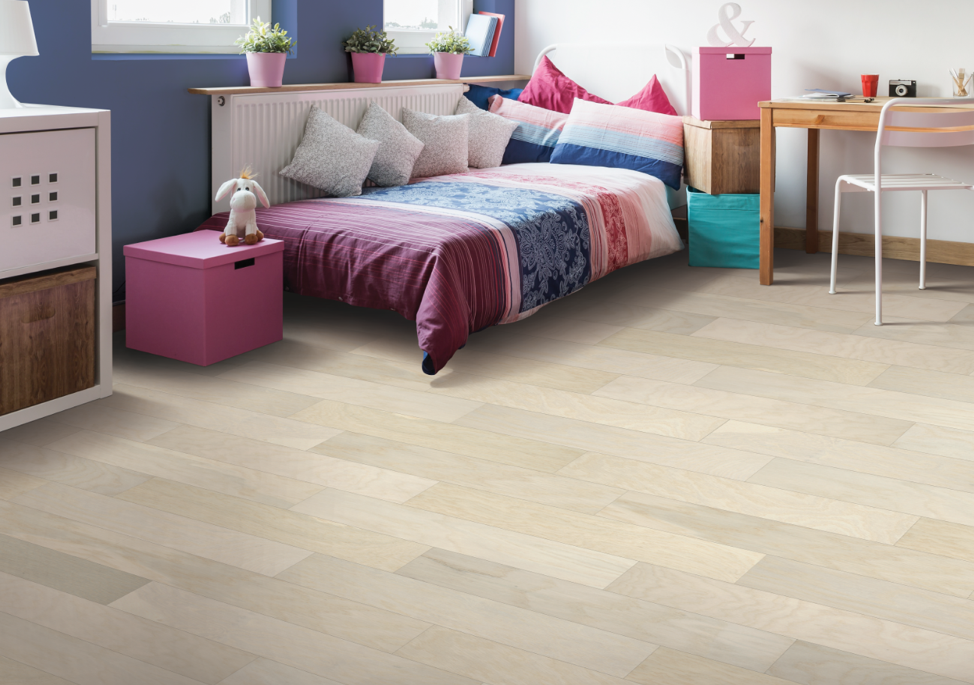 Laminate is the ideal choice if you're looking for a solution that's low-cost, durable, beautiful, and easy to install. A great DIY project, laminate comes in a huge variety of styles, some of which mimic the look and feel of real hardwood or stone floors to the point where they're almost indistinguishable from one another! Unlike those natural materials, laminate offers a little bit more flexibility, making accidental tumbles a lot less to worry about.
As a bonus, many brands of laminate are now waterproof, making your life worry-free when it comes to spills. Like with hardwood, we recommend pairing laminate with an area rug.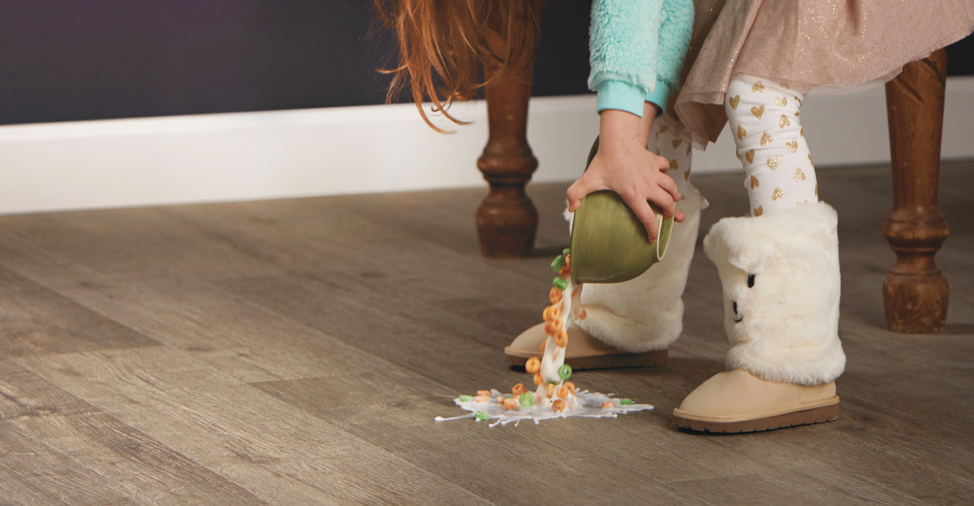 Finding and choosing area rugs for kids
No matter what type of flooring you choose for your kids bedroom or playroom flooring, it's a good idea to consider adding kids area rugs to the mix.
The sorts of kids mats and rugs that we offer include a range of different patterns and designs, all of which can serve different purposes depending on the type of environment you're trying to create in your children's rooms. They generally fall into a few different broad categories:
Theme rugs often feature recognizable images like animals, cars, and landscapes, and even words and visual storytelling to capture the imagination of kids at play. We also have some photographic sports rugs for your aspiring athletes!
Abstract rugs feature geometric patterns & colors that are fun, bright and whimsical. These rugs are multifunctional – you can use them on your kids room flooring, but they're stylish enough to be repurposed anywhere in the home.
Play rugs feature fun designs that are meant for interactivity, like this Train Track design from Mohawk Home.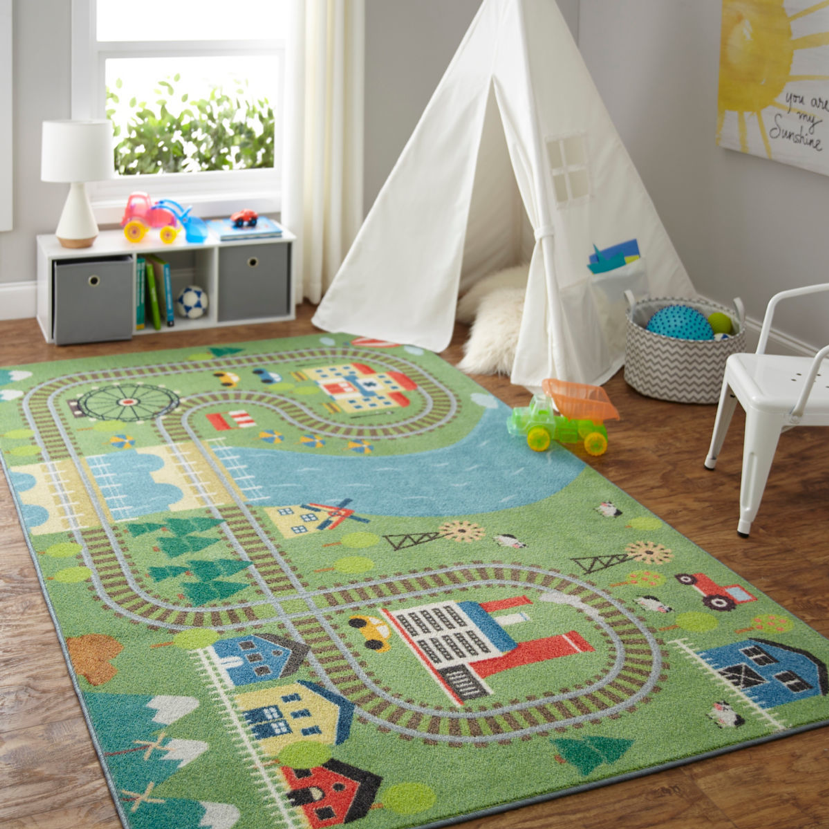 And finally, educational rugs, meant to help kids as they learn lessons like the letters of the alphabet, or in the case of this rug from Mohawk Home, the names of the United States! These are the perfect back to school area rugs!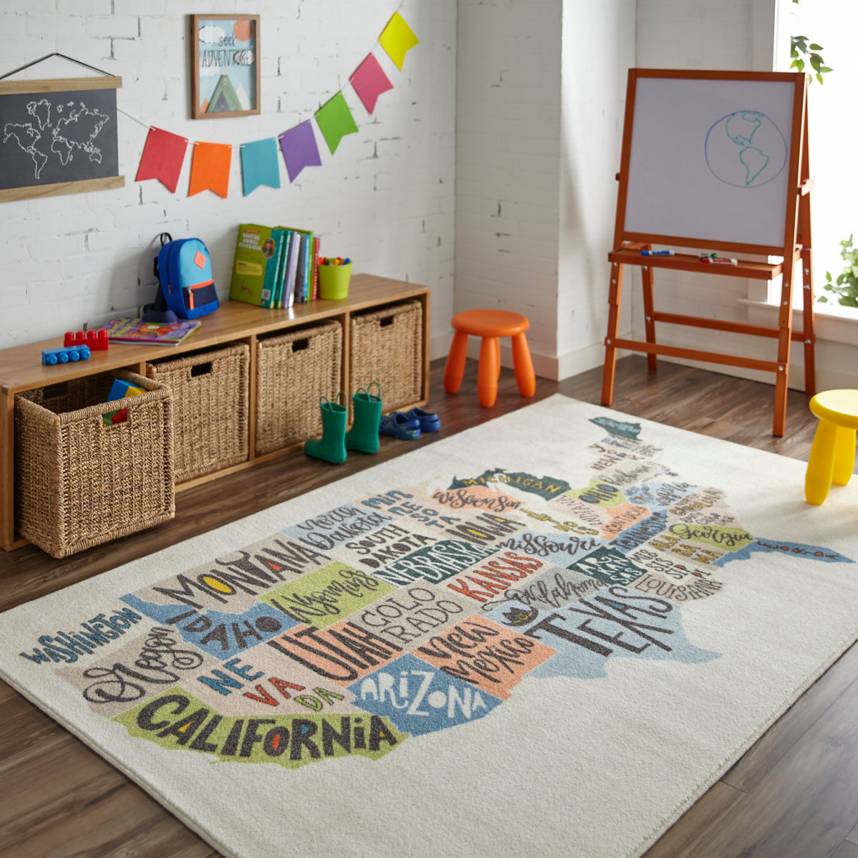 As you browse our site in search of kids flooring solutions, keep in mind what's at the core of any room design – style & functionality. While this will vary from family to family depending on your needs, priorities and the age of your children, our recommendations to consider with it comes to flooring for kids' bedrooms and playrooms include:
Safety & comfort: Soft surfaces like carpet or area rugs provide kids with a comfy place to play on their own while offering parents peace of mind.

Easy maintenance: Stain-resistant surfaces that are easy to clean make for great spaces where kids can get messy & creative – waterproof laminate is a great solution.

Fun & inspiring: Choose color, pattern, texture and design that stimulate your child's imagination and create a space where they'll love to spend time.