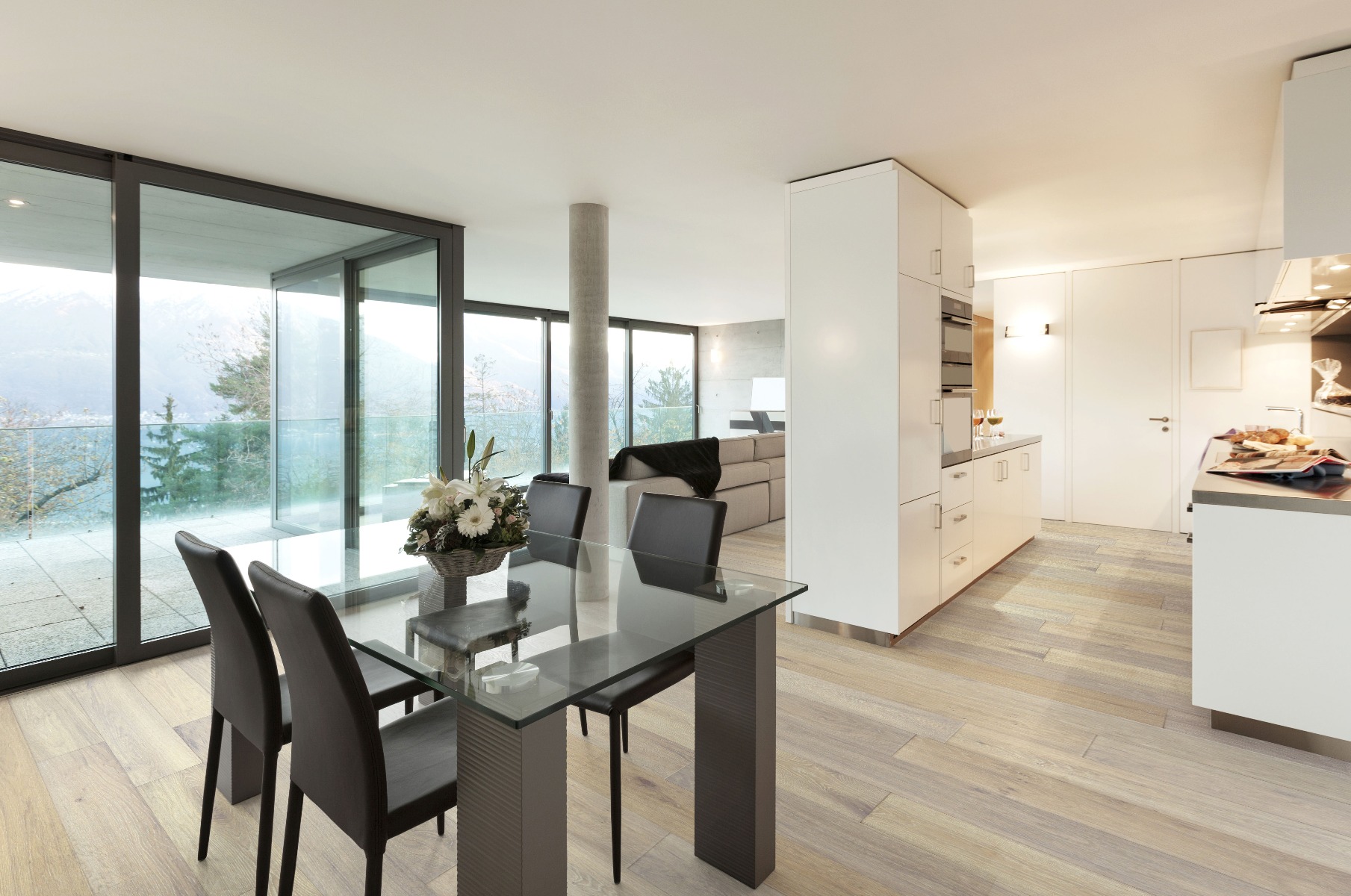 Hardwood has always been a popular option when it comes to flooring for homes and businesses. Prized for its beautiful natural appearance and durability, it's hard to go wrong with hardwood floors!
However, there isn't simply one type of wood flooring from which to choose. When searching for your next flooring solution, you'll likely run into a tough question: Solid hardwood vs engineered hardwood.
At Flooring Liquidators, we'll help you break down the differences between both types of hardwood flooring and help you make the right decision for your renovation project.
Which type of hardwood flooring is better?
First of all, the question is not as simple as "which is better?" The truth is, both options are great! To choose the correct hardwood flooring for your needs, consider the differences between solid and engineered hardwood, as well as some specific aspects of your unique space, including:
The most simple difference between solid and engineered hardwoods is in their construction.
Solid boards are cut from a single piece of wood, with thickness and width that can greatly vary from product to product. Surface treatments may change the finished look, but it is still a solid board through and through.
Engineered hardwood consists of multiple layers, including a thick surface layer of premium hardwood showing all the natural characteristics.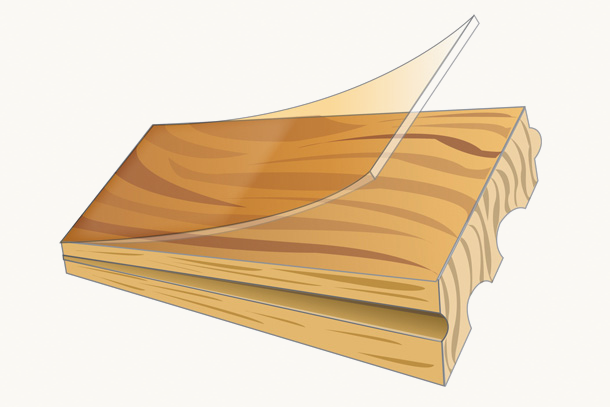 Now let's dive deeper into the specific differences between solid hardwood and engineered hardwood to help you better understand each type.
Engineered Hardwood
How It's Made
Engineered hardwood is made up of multiple-cross layers. The top layer is 100% natural wood, which could come from any of number of varied wood species offered. The bottom layer is also real wood, while the strong middle core is made up of 5 to 7 layers of plywood that crisscross in different directions.
Where to Install Engineered Hardwood
The strong core of engineered hardwood planks makes them less likely to expand, contract, or shift when exposed to changes in moisture, humidity and temperature, making it much more flexible than solid hardwood in terms of where it can be installed in your home. If you want a hardwood for the basement, kitchen or bathroom, engineered hardwood is the smarter option. Engineered hardwood can also be installed over concrete slabs and radiant heating systems, so if you are specifically looking for a hardwood floor to be placed somewhere below ground level, we highly recommend engineered hardwood.
Available Looks
Engineered hardwood flooring not only looks gorgeous in a kitchen, but is durable and strong to maintain any accidents that are prone to happen in the kitchen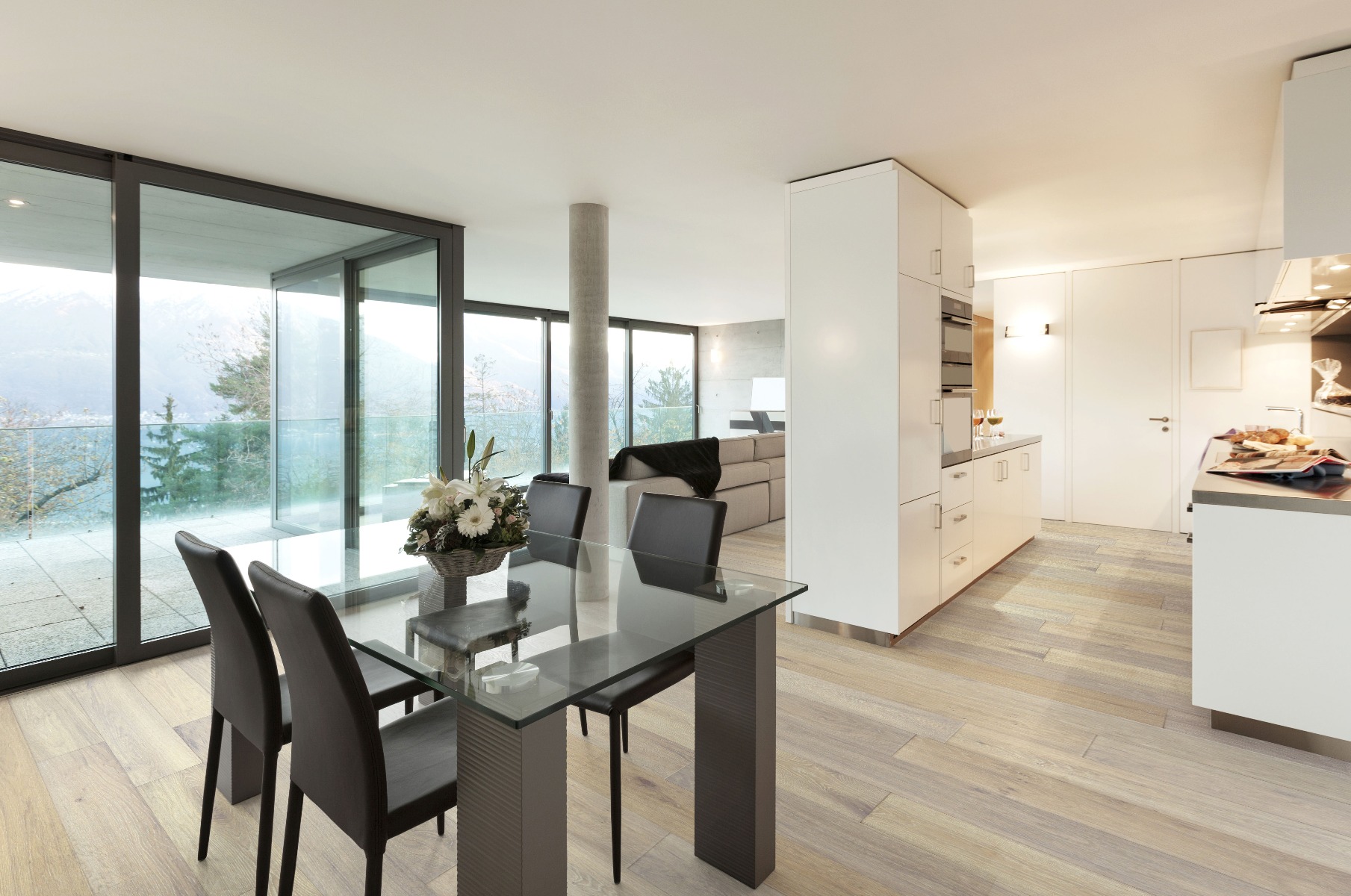 A beautiful dark hardwood looks great with light colored walls and furniture for an all together gorgeous design.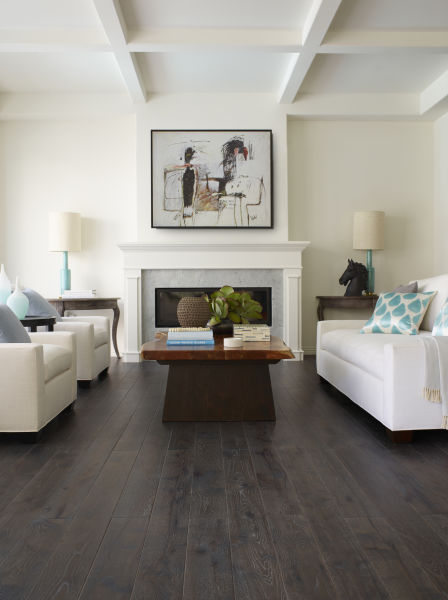 Solid Hardwood
How It's Made
People choose solid hardwood for its authenticity, timelessness and durability. Each plank is crafted from a single piece of solid wood and can be sanded down and repeatedly refinished for however long the flooring is in the house, meaning they can last for a very long time! They also consist of a thin clear protective top layer.
Where to Install Solid Hardwood
Solid hardwood expands and contracts in reaction to changes in moisture and temperature, so we recommend it for above ground or ground level flooring areas.
Available Looks
Solid hardwood comes in a variety of different surface textures including smooth, wire brush, distressed and hand-scraped. They all have specific unique looks, so choose the best look to suit you, your lifestyle and your design.
Smooth
Smooth surfaces are a very popular option for hardwood, bringing a rich and sophisticated look into the room. We offer them in a wide range of options including classic, matte and high gloss. It's important to keep in mind that smooth surfaces tend to show dents and scratches more easily than textured flooring.
Hand Scraped
Hand scraped surfaces can vary in appearance from subtle to extreme. The more extreme the texture is, the more ability the floor has to hide dents and scratches, making it better for families with large dogs and in areas where there is high foot traffic.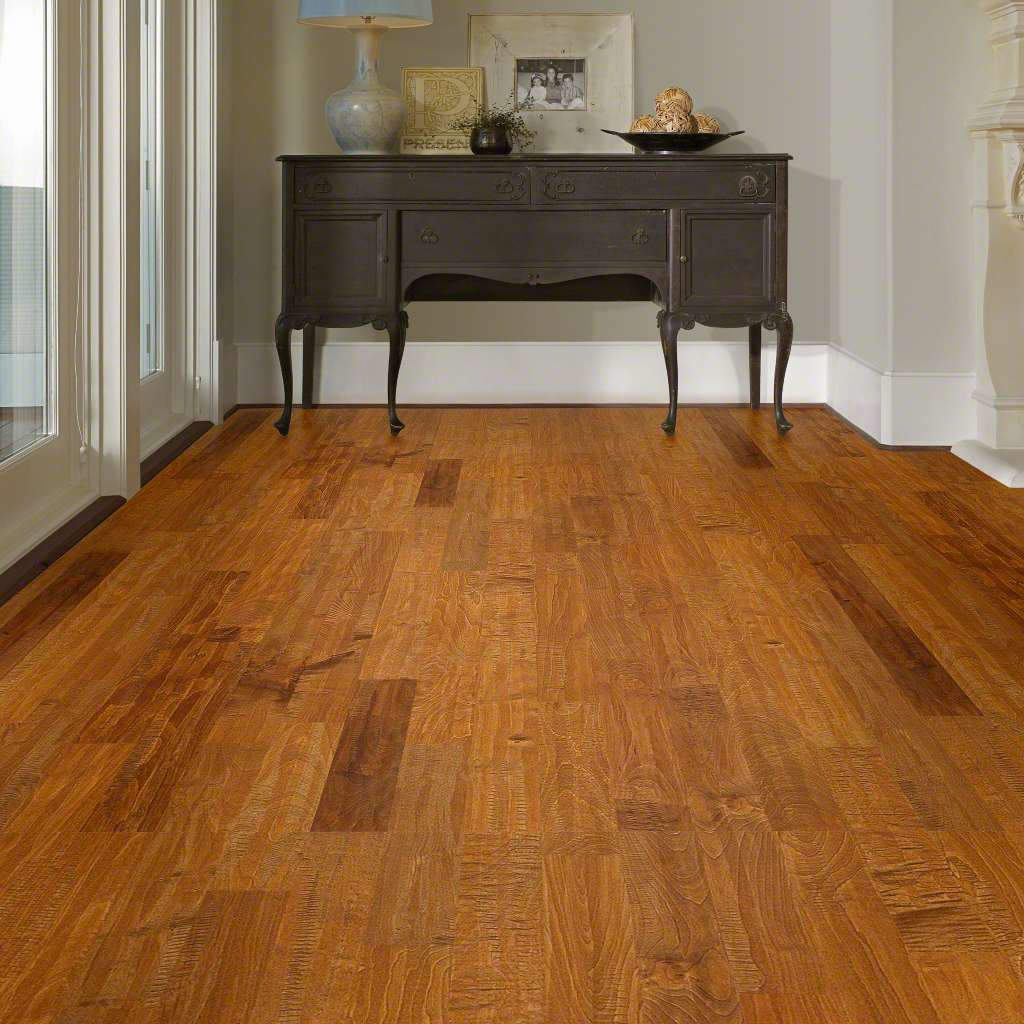 Wire Brush
Wire Brush can be described as a perfect compromise between smooth and hand scraped flooring. The wire brush finish occurs by lightly scraping the flooring in long strokes with a wire brush to accentuate the natural grain of the wood.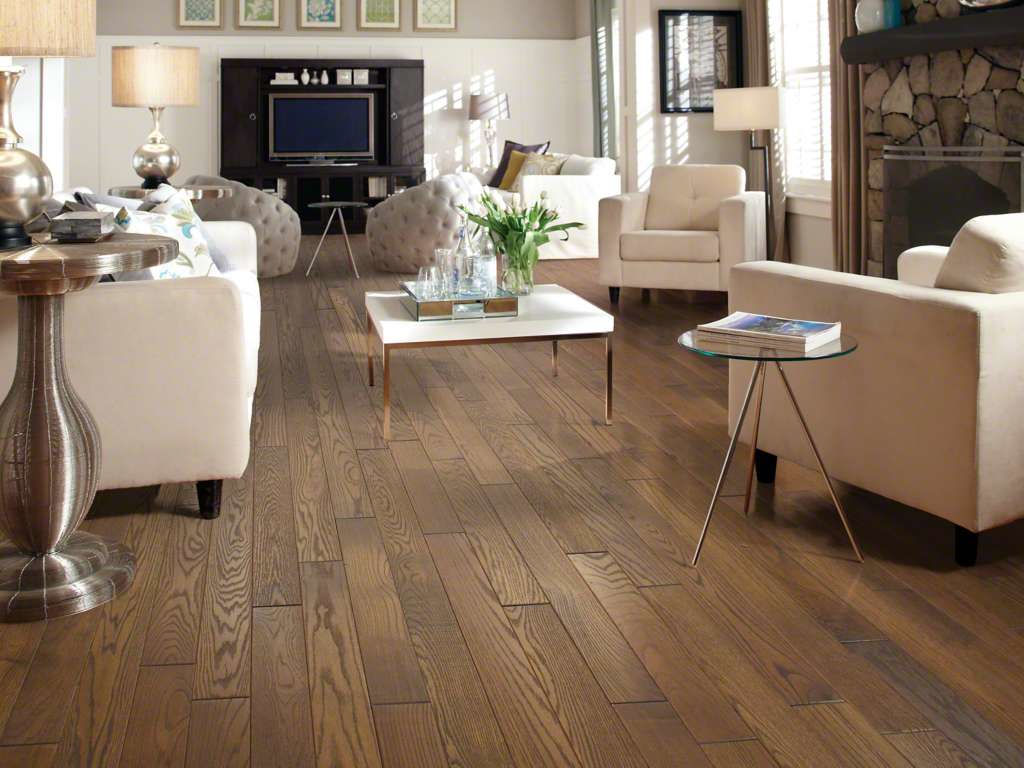 Distressed
Distressed flooring shows a more aged and vintage look. It includes natural and fabricated markings such as burns, dents and blackened edges. Distressed flooring works really well in high foot traffic areas, including traffic from large paws! The cool thing about this flooring option is that it perfectly accepts scratches and dents, allowing them to fit in with the vintage look.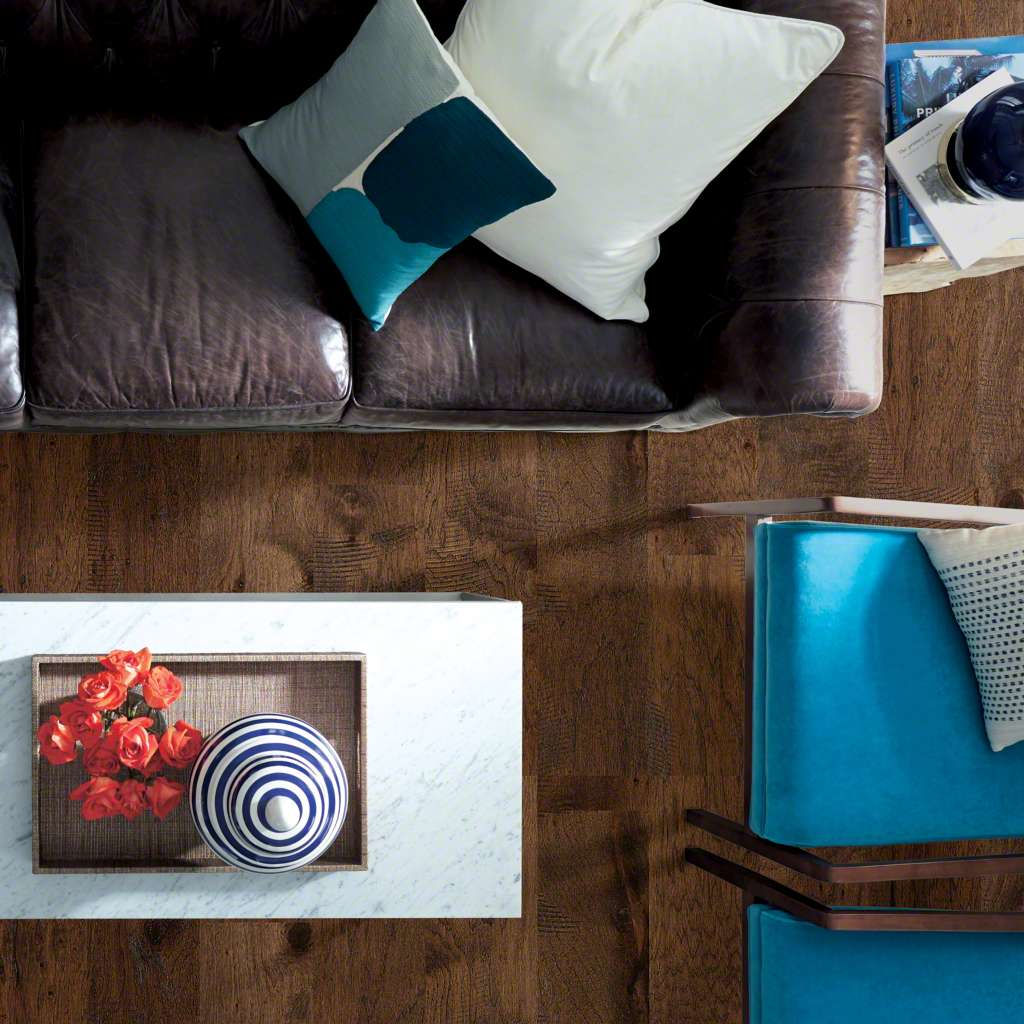 You can find more details and examples of the different surface textures at Hardwood 101 on the Flooring Liquidators website.
What makes hardwood flooring different than laminate and vinyl flooring?
Although laminate and vinyl flooring can mock the look of hardwood, it's not exactly the same.
Different Construction
Laminate flooring is built with a decorative layer that can look just like real hardwood or tile, followed by a core board made of high-density fiberboard and ending with a stabilizing layer. Vinyl flooring also has a decorative layer on top, followed by a solid vinyl core and ending with an interlock system.
So, although vinyl and laminate flooring can look like hardwood, it's not hardwood at all. Neither one contains actual hardwood. While vinyl and laminate can be photographic look a-likes to hardwood, nothing can compare to the beautiful and unique grain and color of natural wood.
Different Lifespans
Another advantage of hardwood is that it has a lifespan of 100+ years. It can be refinished multiple times, so it never loses its beauty. Laminate and vinyl don't have the same lifetime warranty.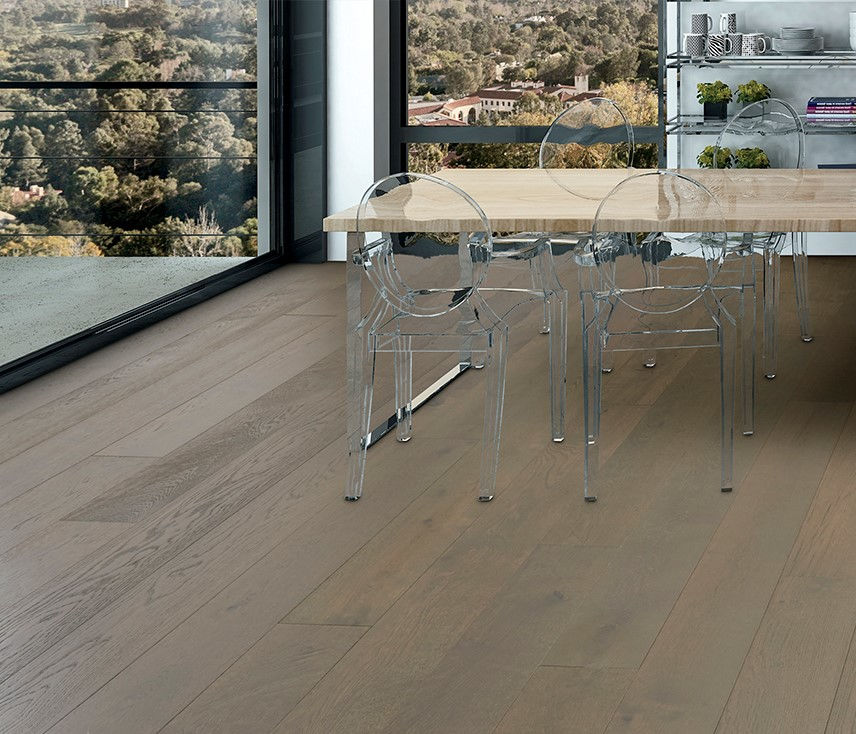 At Flooring Liquidators, we sell top brand solid and engineered hardwood in all different varieties, colors and styles. Some perfect examples are the Mannington hardwood products shown in the images above. Visit our hardwood catalog page to continue to browse through the beautiful solid and engineered hardwood flooring we have to offer and let us help you find the perfect flooring you need.