Luxury vinyl plank is a great product because it is very versatile and durable in most living conditions. Luxury vinyl plank is scratch resistant which means it is able to resist minor scratches. Now if you are moving heavy furniture it is strongly recommended that you use furniture pads to prevent damage. Dragging large objects across your floor will most likely cause some type of damage to your floor. The reason luxury vinyl plank can withstand scuffs, scratches and day to day traffic is because of the wear layer that sits on top of the product.
The wear layer is a coating that sits above the print film of the product which protects the visual. On top of the wear layer is a urethane-based coating with a type of additive to protect the product from being scratched. Many manufacturers use additives like aluminum oxide or ceramic beads. This serves as the first line of defense before wear and tear begins on the actual wear layer.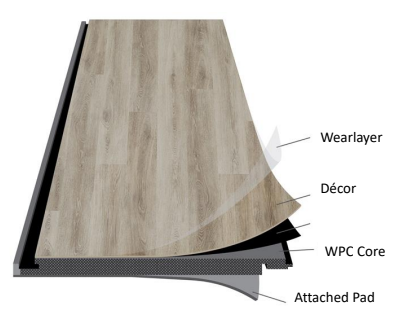 The thickness of the wear layer is different than the thickness of the product. A wear later is measured in thickness and measured in a mil or a thousandth of an inch. Most residential products range from a 12-mil to 20-mil wear layer range. As the wear layer increases, the cost on the product will increase as well.