You were having a great day redecorating the house. You moved some furniture you never thought you'd move. The dresser had sat blocking the bedroom window for too long. Now you want sunlight in your bedroom. You move it, only to spot obvious discoloration on your beautiful hardwood flooring. Discoloration can be caused by many different things, but most common and most dreaded is mold.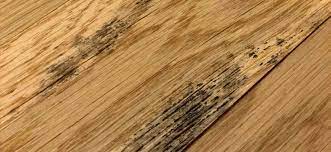 Here are some tips on how to determine the discoloration is mold:
Water stains, this shows moisture was introduced to the hardwood floor, at some time, and mold is growing.
Holes, or what looks like holes. Typically started as a water spot and turns into a black and soft spot on the hardwood.
Mold smells! The smell is musty and not good to be breathed in.
Textured look, mold is sometimes fuzzy in appearance
Coloring, mold on wood typically looks black and white, greyish green or white and fuzzy
Warped boards, moisture and mold work together in attacking the planks and causing warping.