There are several ways in which you can match hardwood floors with a new or an existing one. If you are able to find an extra box laying around with the product information, great! This is not always the case and sometimes even when you identify the product, it has been discontinued. This article will help identify what to do next if you don't have the specific product information.
Identify the characteristics of your hardwood. It's important to identify the specifics of your existing floor. Here are some of the notes you want to write down:

Species of wood. There are many types of wood floors from maple to hickory to walnut to oak. It's vital when matching to identify to type of species of your hardwood.
Width. Measure the width of the plank.
Thickness. Make sure to check the thickness and height of the floor.

Bring a sample and picture to Flooring Liquidators. Try bringing a sample of your old floor with you so you can match it as closely as possible with one of our associates. The next best thing would be to take a picture in bright daylight so you can have the best chance to match. You can check out samples at Flooring Liquidators so you can bring one home to compare with your current floor.
Start from scratch. There may be no way to recreate the perfect match. If you can't find one but are insistent on matching your floors, you may need to strip your current hardwood, find a match and refinish both at the same time.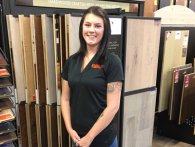 If you find yourself trying to match an existing floor, visit one of our Flooring Liquidators locations so one of our sales associates can help you through the process.