Mold is considered to be one of a homeowner's worst nightmares because of its odor and the high costs of remediation. Mold requires moisture, a food source and the right temperature to grow. Mold is difficult to fix because it remains hidden for a long time before becoming growing in large quantity.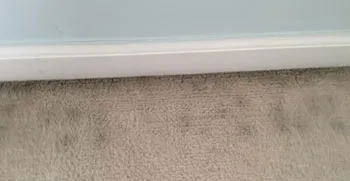 Below are five signs you have mold in your carpet:
Musty Odor. If you can smell a musty odor coming from your carpet, it would be an indication of mold. If you spend a lot of time at your home, you might find it difficult to recognize an odor coming from your carpet. It may be more noticeable to family or friends that come to visit as they aren't inside the house as frequent.
Allergy Reactions. People that are allergic to mold may display such symptoms as sneezing, coughing, wheezing and a runny nose. Symptoms of mold exposure may worsen if you spend more time in a specific room.
Carpet Discoloration. Black, green or white growth will be visible once it's reached the advanced stage. The best way to handle this problem would be replace your carpet and cut off any sources of moisture in your home.
Damp Carpet. Carpet can remain damp if it was exposed to water and didn't completely dry out. As long as there is some amount of water, it is likely to potentially create mold.
Old Padding. It is imperative when replacing your carpet to replace the padding as well to avoid any chances of reoccurring mold. If an old pad is used more than once, it can be more susceptible to mold because of previous spills and the exposure to trapped moisture.
If you are still unsure whether to replace your carpet, then reach out to Flooring Liquidators to schedule an in-home consultation.