Water damage can be catastrophic to a homeowner. From a burst pipe to an overflowing bathtub, it can often lead to severe damage. There is no clear cut answer on if you want to replace carpet compared to cleaning carpets but consider several factors.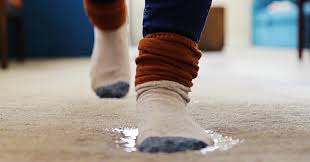 If carpet is wet for 72 hours or longer, you should consider replacing it. Mold can take no longer than 72 hours to form and spread. Once mold spreads, you can be looking at a very costly project removing the mold. Not only do you have to worry about the carpet itself but more importantly the pad below. The water can be trapped below assisting the mold to grow and mature.
It's recommended that you pull up carpet to inspect the home's subflooring for water damage. Pulling up the carpet allows for it to dry thoroughly and ensures the padding will also dry completely. Use a shop vacuum to remove residual water and not a vacuum. Using an everyday vacuum on wet carpet will only get the insides of the vacuum wet which could create mold inside that appliance.
There are a lot of factors to consider before you decide to replace your carpet after having water damage your home. If you have any questions, reach out to Flooring Liquidators to discuss possible flooring solutions.